High quality replacement parts designed specifically for the 3M™ .3 HP Die Grinder
Parts included in this list cover every piece of the grinder
Simple graphics included in your owner's manual make it easy to find the part you need
Affordable parts are available both individually and in packs
Easily repair and keep your power tool in top shape
Our 3M™ .3 HP Die Grinder Replacement Parts can help you keep your die grinder running without spending a lot. These parts are specifically designed for your 3M™ .3 HP Die Grinder to guarantee that you get a part that fits perfectly and holds tight. To find the part you need, refer to your owner's manual for parts list and a detailed tool schematic.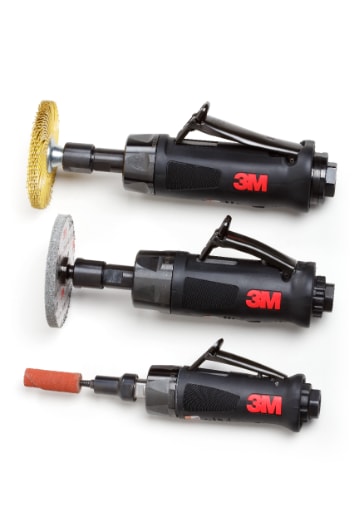 3M die grinders are built to work with 3M abrasives
High Quality Parts Keep Your Tools Running Strong
Available to order individually or in packs, these high quality parts are made specifically for your 3M tools by the 3M engineers who designed them. We understand exactly how you use our tools, and want to make it easy for you to keep them running. Every piece of the
3M™ .3 HP Die Grinder
is available to order, and finding the part you need is easy. Detailed graphics included in your
owner's manual
(PDF, 1.52 Mb) show every part so that you know exactly what to order and replace.
At 3M, we design tools to last, which means paying attention to every detail of the tools you use daily. We use only high quality materials, and make each part available for replacement so that your tool lasts as long as you need it. From screws and sockets to motors, springs and gears, every part is here. So don't scrap a tool you love. Save yourself time and money by ordering just the parts you need instead.
More 3M™ Power Tools and Accessories
(PDF, 18.52 Mb)
Discover More 3M™ Woodworking Solutions
(PDF, 20.55 Mb)
Find More 3M™ Industrial Metalworking Products
(PDF, 12.94 Mb)