Having the right tool system for the job is an essential part of any application. 3M engineered the 3M™ Grinders to power abrasives and accessories — making your cutting, grinding, blending or finishing jobs fast, easy and efficient.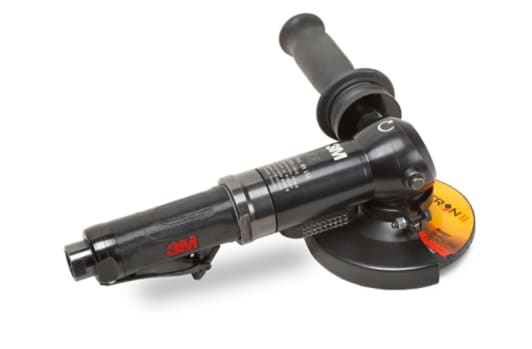 Balancing Power and Comfort
Our 3M™ Grinders are pneumatically powered with a reliable, high output motors — available in 1 HP and 1.5 HP. High output motors allow operators to apply significant pressure without interrupting tool performance, which results in the work getting done faster. 3M™ Gripping Material enables a firmer hold on the tool, minimizes vibration, and insulates the operator from possible hot or cold touch temperatures. Altogether, these characteristics enhance operator comfort and control and make these lightweight, powerful tools a user-friendly option for tackling tough metalworking applications. A removable and repositionable side handle means operators can run the grinder right or left handed.
Grinder Variations
3M™ Grinders are available in a few variations. 4" grinders with a 3/8 - 24" EXT thread are commonly used in ship-building and other applications that require smaller abrasives. They're great for weld leveling and blending, metal preparation and plasma cut clean-up. 4-1/2" grinders with a 5/8 - 11" EXT thread are great for metal fabrication applications including grinding, blending, weld leveling, metal prep and pipe notching. Both grinders are offered in standard or extended lengths. Typically, extended versions are ideal for hard-to-reach areas, and the addition of a second grip places the operator's hand further from the grinding area for safer operation.
Use with Type 27 Abrasives
We engineered the 3M™ Grinders to be used with Type 27 wheels or discs, which have a depressed center. A depressed center enables the flange to sink into the abrasive, so the abrasive may be used for grinding and cutting applications and not risk marring or gouging the workpiece. The accompanying steel guard on the grinder has an open face and can be re-positioned for greater visibility of the work area. Some Type 27 abrasives will have a threaded hub that mounts directly to the grinder, while other Type 27 abrasives require flanges to mount to the tool. For optimal safety, operators should always read and follow manual safety instructions and ensure the tool's operating speed does not exceed the maximum RPM imprinted on the tool.
Altogether, the 3M™ Grinders are powerful and reliable, designed to help you tackle your toughest metalworking applications.
Learn more about 3M™ Metalworking Tools.
(PDF, 802.68 Kb)