Precision-balanced 0.45 hp motor and comfortable molded grip decrease vibration and noise
Lightweight tool is ideal for intermittent use on spot duty light sanding and finishing applications
97 degree head enables a more natural wrist position on vertical surfaces for greater operator comfort
Variable speed control with variable speed trigger increases operator precision for less rework
Dual mount feature allows direct mount for greater visibility and maximum control, or collet mount for extended reach
Our line of air-powered 3M™ Disc Sander, Pistol Grip tools are designed with operator comfort in mind and run any 3M™ Roloc™ product 3" or less with an RPM rating of at least 15,000. They are ideal for intermittent use on non-production spot sanding and finishing applications as well as paint prep and weld burn clean-up, and the pistol grip and 97 degree head provides improved operator comfort.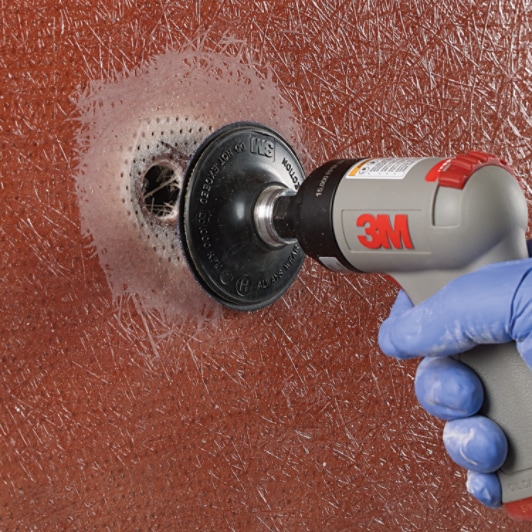 Lightweight, low cost alternative to production tools for customers who need a tool for spot duty or intermittent use
Dual Mount Capability
Our versatile tools provide dual mount capability that allows you to switch between the direct mount, which provides greater visibility and maximum control, and the collet mount, which extends the reach of the tool when required for sanding hard-to-reach areas. The collet mount also provides compatibility with a wide range of abrasive products.
Use with 3" and Smaller Roloc Disc Pads and Surface Conditioning Products
Pneumatic 3M™ Pistol Grip Disc Sanders are designed for intermittent spot repairs by skilled, trained professionals in accordance with the instructions in the user manual (included on the product page). Our tools are optimized when paired with other 3M products, and designed to be used with 3" and smaller Roloc disc pads as well as other coated and surface conditioning products used for sanding metals, wood, stone, plastics and other materials.
Roloc™ Attachment for Ease of Use
The 3M™ Roloc™ TR system provides a quick, secure attachment for products ranging in diameter from 1 to 4 inches. Roloc™ disc pads come in various densities or hardness levels depending on the requirements of the application. The disc pad (also called a backup pad) interlocks with the sanding disc or bristle disc and is attached to the disc sander. This simple assembly provides a secure attachment that is reliable even when working at high speeds. Combining a Roloc abrasive disc with a Roloc disc pad provides convenience, high-quality, and consistent results.