The 3M™ Random Orbital Sander two-handed design gives you extra leverage and power — with less effort. Handles are made from 3M™ Gripping Material for comfort and secure grip, providing improved control with reduced effort. This sander features a powerful 0.45 hp motor with a 3/8-inch orbit.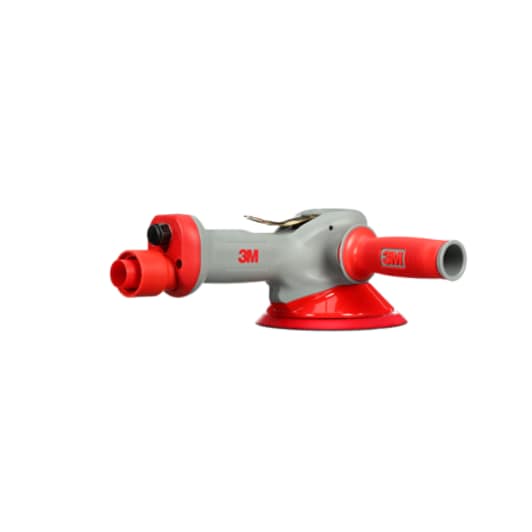 Two-handed design gives you extra leverage and power
Work Easier With Two Hands
Engineered for performance and ergonomics, our 3M™ Random Orbital Sander with a detachable side handle is loaded with features to reduce vibration and noise and provide greater wrist support and operator comfort. Its two-handed design allows better control. Comfortable handle reduces vibration, as well, for greater worker comfort and improved tactile feel.
This sander can be used with or without the removable side handle. A more powerful 0.45 hp motor combined with a 3/8-inch orbit provides higher stock removal rates.
A curved alloy steel lever and built-in wrist support provide comfortable operation, while the recessed lever platform eliminates pinch and pressure points on the operator's palm. The speed control dial is conveniently located on the side and controlled with the thumb. We've also lightened the load with a composite cover that extends to the base to absorb and reduce vibration and keep these tools in service by preventing cracked housings. An innovative internal muffler helps reduce noise and won't break off.
In non-vacuum/central vacuum and self-generated vacuum models, the two handed sanders are engineered to run at a maximum of 12,000 RPM. In addition to the power tool itself, with PN 28335 you get a 3M™ Clean Sanding Hookit™ disc pad (20356), 3M™ Hookit™ Clean Sanding Pad, Filter Bag Adaptor, and Clean Sanding Filter Bag.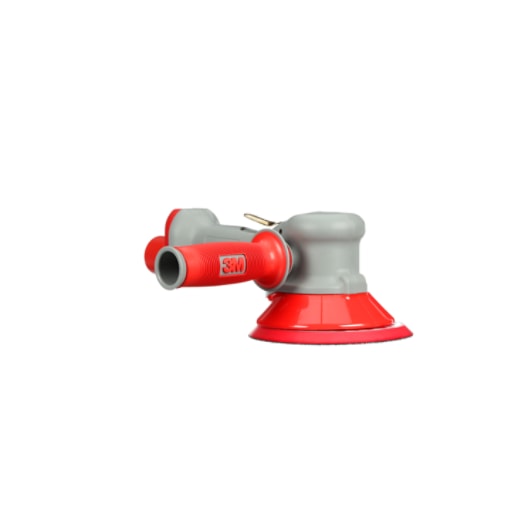 Can be used with or without the removable side handle
3M Clean Sanding System
Discs cut and last longer when dust isn't loading the cutting surface of the abrasives. For dry-sanding composites, wood, metal, e-coats or almost any other substrate.
A carefully-matched system of abrasives, random orbital tools and accessories, work in concert to remove more dust than 5- or 6-hole systems — dramatically increasing disc life. Cut isn't compromised as the design achieves an ideal balance between abrasive surface area and dust extraction holes. The holes don't need to be aligned and reuse of discs couldn't be simpler with the 3M™ Hookit™ attachment system.
You'll see the difference in your workplace and count the difference in parts per discs. And that can help put cash where it really counts — your bottom line.
Recommended Applications
Our 3M™ Hookit™ Paper Disc 735U features blend of aluminum oxide and ceramic grain mineral. It's load resistant and one of our premium discs for random orbital sanding. With excellent cut rate and life, the clean sanding version is an excellent choice for whitewood sanding. It's also great for sanding on metal substrates.
3M™ Power Tools, Abrasives and Accessories Catalog.
(PDF, 18.52 Mb)
3M™ Industrial Products for Metalworking Catalog.
(PDF, 12.96 Mb)