3M™ Orbital Sanders - Original Series are designed to maximize finishing performance on flat surfaces. Its 3 x 4- inch work face easily gets into corners and angles to deliver an exceptionally smooth, flat, professional surface on metal, wood, composites and advanced materials. Air-powered 3M™ Orbital Sanders - Original Series are available in three vacuum styles, with accessories.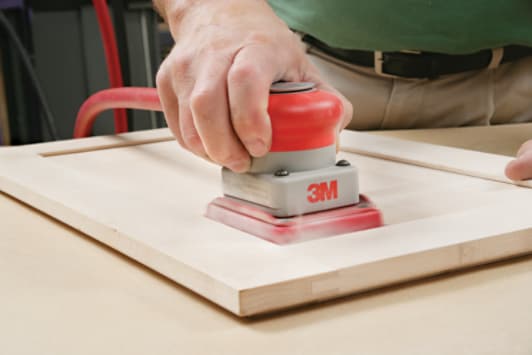 Ideal for sanding in tight areas or on vertical surfaces
Designed to Deliver Outstanding Finish
Our 3 x 4-inch 3M™ Orbital Sanders - Original Series feature a .24 (179) horsepower motor with a 1/8 inch (3.0 mm) diameter circular sanding action ideal for flat surface finishing and sealer sanding. These pneumatic — air-powered — sanders run on power generated by an air compressor for hours of continuous use.
Make fast work of sanding and surface preparation on wood, metal, fiberglass and composite materials. This sander delivers a scratch-, gouge- and swirl-free finish ready for paint or varnish.
Lightweight, compact, ergonomically designed for operator comfort, it's robust enough to use hour after hour in an industrial environment.
Three Vacuum Styles
Three vacuum styles mean one is right for your application.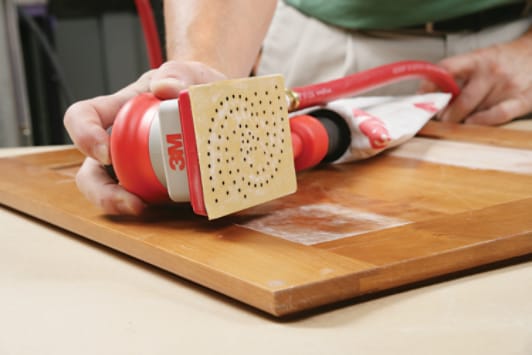 3M™ Orbital Sander, 3"x4" Self-Generated Vacuum with 3M™ Clean Sanding Sheet 236U.
Popular and powerful non-vacuum sander comes with a 3M™ Hookit™ Pad included. Non-vacuum models are used in applications where dust extraction is not a concern.
A central vacuum-ready sander, with a 3M™ Hookit™ Clean Sanding Pad, easily attaches to an existing central vacuum to evacuate dust.
Our self-generating vacuum sander is designed to work with the 3M™ Clean Sanding System.™ It comes with a HEPA-rated Clean Sanding Filter Bag and Clean Sanding Hookit™ Pad.
Breathe Easy and Maximize Performance, Productivity
The 3M™ Clean Sanding System™ helps you control this fugitive dust and thus:
Attain a better finish when the abrasive is kept clean
Reduce cleanup costs
Extend abrasive material life
Reduce buffing and rework
Maximize your profits
Breathe cleaner air
Hookit Attachment System for Optimal Performance
3M™ Hookit™ back-up pads are perfectly mated for use with hook-and-loop style 3M™ Hookit™ sheets. They're ideal for work spaces where adhesive backed discs may become contaminated by dust, dirt, or flying debris. The 3M™ Hookit™ attachment system allows you to easily attach, detach and reattach the abrasive, thus utilizing the entire life of the sheet, resulting in less shop waste.
3M Science. Applied to Designing the Tools You Use
When you need a finishing tool, you might not think about the innovative equipment technology required to help you do the job more efficiently. 3M did. That's why we engineered a better line of air-powered finishing tools. Tools designed to work hand-in-hand with the 3M™ Abrasives and Accessories you've always trusted.