Precision-balanced steel workings run smoothly with less vibration, ideal for high production industrial environments
Improved durability, ergonomics and noise level maximize comfort and control for prolonged use
Pneumatic power exceeds the capability of standard electric sanders, supplying hours of continual use
Aluminum body and durable composite cover reduce cracked housings and downtime
Low-profile, balanced design optimizes the performance of 3M™ Abrasives
Our 3M™ Non-Vacuum Random Orbital Sanders are air-powered and deliver professional performance and a swirl-free finish in high-production industrial environments where dust extraction is not required. Our high-quality tools are designed to optimize the performance of 3M™ abrasives.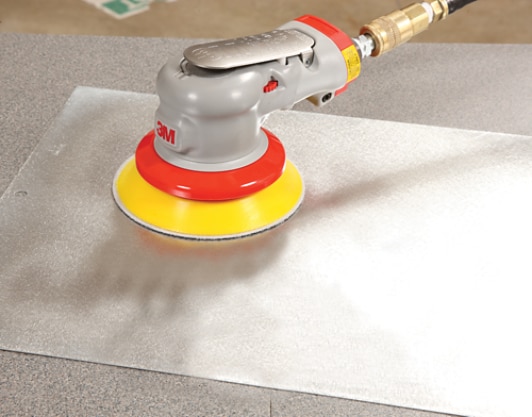 Metal fabrication application
Why use a 3M™ Random Orbital Sander?
Our random orbital sanders optimize sanding and surface preparation on many surfaces, including wood, metal prep for paint, fiberglass, composite materials, and many other substrates. Also known as dual action (D/A) sanders, these industrial-grade tools rotate the abrasive disc and disc pad in two simultaneous overlapping oval patterns so no single abrasive particle follows the same path twice, resulting in a swirl-free finish, even when sanding against the grain.
Pneumatic sanders are also called air sanders and run on power generated by an air compressor. These include non-vacuum (NV), central vacuum (CV), and self-generated vacuum (SGV) models. Non-vacuum models such as these are not connected to a vacuum system and are used in applications where dust extraction is not a concern.
Learn more about the 3M™ Elite Series
(PDF, 1.8 Mb)