Powerful lightweight tools primarily intended for use in the automotive aftermarket and ideal for intermittent use on light duty spot sanding and finishing applications
Pistol grip design allows sanding hard-to-reach areas such as those found in door jambs, bumpers, and headlight lenses with ease
Durable composite body feels good in the hand and has less potential to mar if bumped against the work surface
Our pneumatic 3M™ Pistol Grip Tools are designed with operator comfort in mind and are ideal for intermittent use on non-production spot sanding and finishing applications as well as paint prep and weld burn clean-up.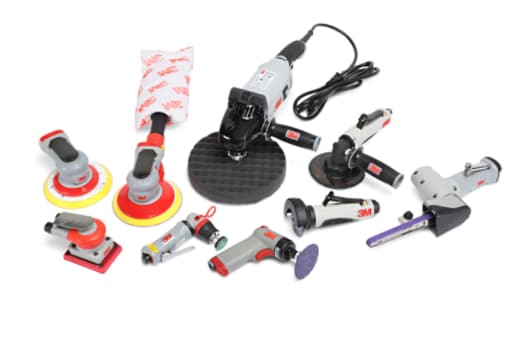 A full family of innovative tools to optimize abrasive performance and maximize comfort
Designed for Ease of Use on Spot Repairs
Ideal for intermittent auto body spot repairs, the low-profile pistol-grip design provides access to tight or contoured areas such as around door jambs, bumpers, headlights, and so on. The direct mount feature permits increased visibility, allowing operators to minimize rework. Additionally, the durable composite body is less likely to mar if it bumps against the work surface. Available in 3 configurations (3" rotary sander,
3" buffer
, and
3" random orbital sander
) to make quick work of typical spot repairs, including weld cleanup, edge blending and feathering, and paint finishing/buffing.
Discover More 3M™ Power Tools, Abrasives and Accessories
(PDF, 18.52 Mb)
3M Brings Better Ideas to the Surface through Science and Innovation
In our 3M Abrasives Systems Division, we draw on the science of abrasives to deliver innovative solutions that improve manufacturing and aftermarket processes of companies around the world. In the end, our technologies help customers like you deliver competitive products and services to the market faster and more efficiently.