The 3M™ Flap Disc Holder helps secure 3M™ flap discs and cup wheels to power tools. Specifically, it accommodates Type 27 flap discs and wheels that have a depressed center and measure 6 or 7 inches in diameter. Abrasives without a built-in hub reach their maximum potential with the help of the 3M™ Flap Disc Holder.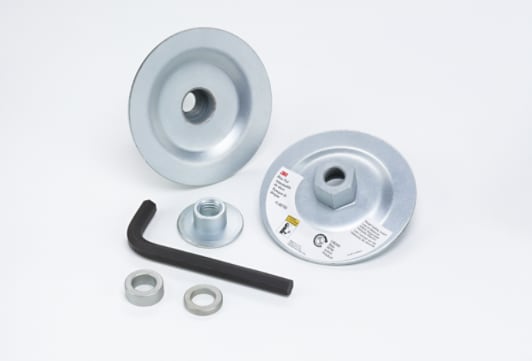 3M™ Flap Disc Holder includes spacers, flanges, retainer nut and an Allen wrench.
Securely Mount Type 27 Flap Discs and Wheels to Power Tools
3M™ Flap Disc Holder includes all the necessary components to make abrasive-to-tool attachment secure: spacers, flanges, retainer nut, and an Allen wrench. The spacers are optional and intended to accommodate different spindle lengths among common commercially available right angle grinders, while still placing the abrasive product of choice safely within the grinder guard.
Once all the components and the accompanying abrasive have been properly mounted, use an Allen wrench to twist the retainer nut and tighten the entire system, locking it into place. 3M™ Flap Disc Holders are commonly used on right angle grinders.
Safety First: Tips for Optimal Performance
As with all abrasives and power tools, it's important to take safety precautions. Two simple safety measures include using a guard on the right angle grinder and complying with the maximum operating speed.
First, a guard prevents debris from flying and minimizes the risk of injury. As mentioned above, it's important that the disc be positioned within the guard, to ensure maximum safety and to allow the guard to function as designed. Finally, the maximum operating speed of the tool should be equal to or less than the speed indicated on the abrasive. By abiding by the proper speed, operators reduce the risk of injury and may also prolong abrasive service life.
Make the Most of Your Abrasive
3M™ offers a range of Type 27 flap discs and wheels (sold separately) to meet your grinding needs. These abrasives are great for grinding and blending in one easy step. Fresh mineral is exposed for the life of the disc, helping to provide consistent cut rates. These abrasives tackle projects like weld grinding, blending, deburring, rust removal and surface prep on a variety of metals. For those abrasives that come without an integral 5/8-11" hub, the 3M™ Flap Disc Holder helps you securely attach the disc or wheel to the power tool and make the most of your abrasive.