Designed specifically for use with a 3x4" orbital sander
Medium density foam provides some conformability for surface sanding
1/2" thickness offers support for sanding sheets
3M™ Hookit™ attachment provides excellent backing support and easy reuse, optimizing disc life
Operates at 10,000 Max OPM
Our 3M™ Hookit™ Sheet Pad provides excellent backing support to 3x4" sanding sheets when using the 3M™ Orbital Sander. The 3 x 4-inch, medium density red foam pad is 1/2 inch thick and features a Hookit hook-and-loop attachment for ease of use. Use with 3M™ Hookit™ Abrasive Sheets.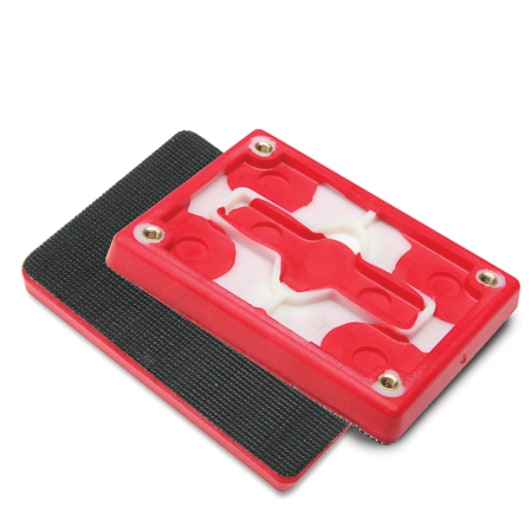 Offers support for sanding sheets
Optimizes Your 3M™ Tool Performance
Our 3M™ Hookit™ Sheet Pad was made to optimize the results you get when finishing flat surfaces, edges, corners and angles with a 3M™ Orbital Sander. It is a perfect mate for our rectangular 3M™ Orbital Sander PN 20331 and Hookit™ abrasive sheets. The 1/2-inch, medium density red foam pad provides conformability for the latter stages of surface sanding. Use this foam pad with an orbital sander at a maximum speed of 10,000 OPM.
The 3M™ Hookit™ attachment system allows you to easily attach, detach and reattach the abrasive, thus utilizing the entire life of the sheet, resulting in longer use and less waste.
3M Science Improves Abrasive Systems
When you need a finishing tool, you might not think about the innovative equipment technology required to help you do the job more efficiently. 3M did. That's why we engineered a family of abrasives, accessories and air-powered finishing tools that work hand-in-hand to optimize abrasive performance, enhance productivity and maximize your comfort. This sander and accessories make fast work of sanding and surface preparation on wood, metal, fiberglass and composite materials leaving a scratch-, gouge- and swirl-free finish ready for paint or varnish. At 3M, we've engineered an integrated system of solutions that work together to help you get the best possible results for the work you do.