Medium density backup pad for abrasive sheets on 3M™ Orbital Sander
Proprietary multi-hole pattern in pad helps evacuate dust, keep abrasive clean
Use with central vacuum and self-generating vacuum style orbital sanders
Dust evacuation extends abrasive life, improves abrasive performance
Better abrasive quality, better finish
The 3M™ Hookit™ Clean Sanding Pad backs up abrasive sheets for use on 3M™ Orbital Sanders, both central-vacuum-ready and self-generating-vacuum models. Our foam-construction Clean Sanding Pad features a 3M-patented, multi-hole pattern designed to evacuate dust and increase abrasive life for better performance and longer abrasive life.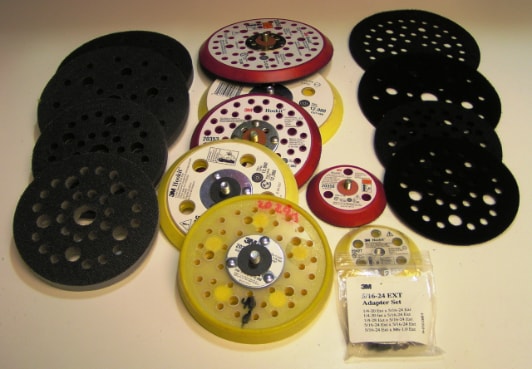 Choose from a wide range of abrasive constructions, grades and sizes
Clean Sanding for Your Orbital Sander
The medium density red foam construction of our 3M™ Hookit™ Clean Sanding Pad provides conformability and affords superior control during flat sanding applications using our
3M™ Orbital Sanders
. This pad is 0.5 inches thick and attaches to 3M™ 3" x 4" central-vacuum-ready and self-generating-vacuum orbital sanders.
Abrasives Cut Better, Last Longer without the Dust
Abrasives cut better and last longer when dust isn't loading the cutting surface of the abrasive sheet. It's that simple. And, with its impressive power to weight ratio, this 3 x 4" sander is able to kick up dust. The 3M™ Clean Sanding System sheet pads and sheets makes reducing dust easier than ever.
Learn More about the 3M™ Clean Sanding System
(PDF, 4.7 Mb)