Ideal for fine grade hand sanding
1/4" neoprene rubber construction provides support and eliminates finger marks
Consistent nylon face accepts 6" dia. abrasive discs
Elastic hand band affords snug fit, lasting comfort
Stikit™ attachment makes disc changeouts fast and easy
Our 3M™ Stikit™ Abrasive Disc Hand Pad is excellent for precision hand sanding. Its durable 1/4" neoprene rubber construction eliminates finger marks while providing support and control for 6" 3M abrasive discs. An elastic hand band makes the pad extremely comfortable to use. The nylon cloth face accepts Stikit™ discs featuring adhesive attachment that makes changing discs fast and easy.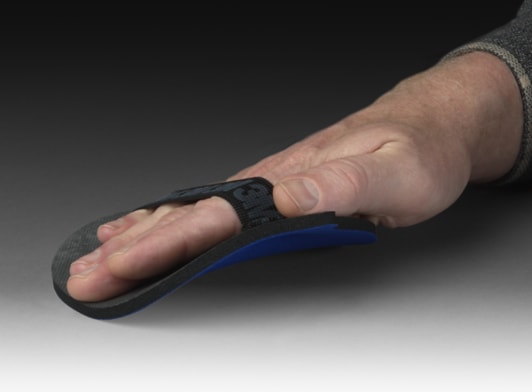 Provides just the right balance for hand sanding
Discs come ready to use with a pressure sensitive adhesive coating on the backs
Built for Fine Grade Hand Sanding
Made from ¼" neoprene rubber, our 3M™ Stikit™ Disc Hand Pad provides support, comfort and durability for professional collision repair jobs that require the refined touch of hand sanding. This sanding pad provides just the right balance — it eliminates finger marks that can occur during fine hand sanding, yet still affords a good "feel" for the surface for truly excellent results. The elastic band across the back of the pad allows it to fit snugly yet comfortably on your hand, which adds comfort and lets you sand longer. The pad easily accepts 6" diameter Stikit™ abrasive discs, allowing for fast, easy attachment and removal to save you time.
Our Stikit™ Attachment System
3M™ Stikit™ discs come ready to use with a pressure sensitive adhesive coating on the backs —simply press the disc onto the backup pad and you're ready to go. They remove just as cleanly, leaving an uncontaminated surface for the next disc. This saves time, especially during applications requiring multiple grades.
Better Science for Better Sanding from 3M
The features built into our 3M™ Stikit™ Abrasive Disc Hand Pad afford a controlled touch, a consistent nylon facing that eliminates finger marks and fast, convenient disc changes — simply better sanding for smoother collision repair operations.