3M™ Roloc™ PSA Disc Pad helps drive 3M™ PSA Flexible Diamond discs (sold separately), by connecting the disc to a Roloc™ holder pad and, subsequently, the power tool.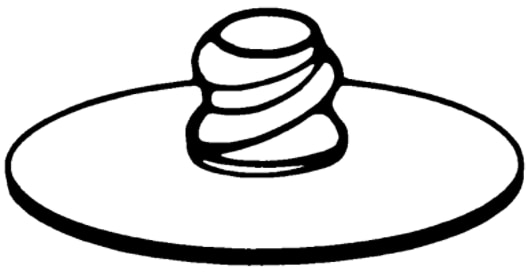 Nylon threaded male (screw type) hub. easily mounts to TR or Roloc™ type holder pads holder pads with a half turn
The Disc Pad: A Driving Force
When performing heavy-duty finishing, polishing or grinding on ferrous and non-ferrous metals, granite, ceramic and various coatings, industrial professionals need an abrasive that can cut aggressively. 3M™ Roloc™ PSA Disc Pad connects
3M™ PSA Flexible Diamond discs
(sold separately) to power tools, so industrial professionals can make use of the disc's aggressive cutting action. The 2" diameter on the pad accommodates 2" diameter discs. It has a Roloc™ TR attachment, which is a twist-on / twist-off plastic button. Using a simple twisting motion, operators can securely screw the disc to the Roloc™ holder, by threading the button into the Roloc™ holder center hole.
| | | | | | |
| --- | --- | --- | --- | --- | --- |
| Diameter | Attachment | Density Rating | Max OPM | Max RPM | MOQ |
| 2" | ROLOC™ TR | Medium | 10,000 | 10,000 | 5 |
Pressure-Sensitive Adhesive (PSA) for Easy Attachment
The disc attachment surface on the 3M™ Roloc™ PSA Disc Pad is made of neoprene foam, which is a flexible yet durable material. Balancing flexibility with strength helps this pad respond to contours and forgive surface imperfections. The pad has a smooth, flat face that welcomes the pressure-sensitive adhesive (PSA) attachment on the back of the flexible diamond disc. By applying pressure, the disc gets stuck to the pad. The smooth face of the pad, combined with the PSA backing of the disc, allows for easy removal with minimal residue and convenient disc changes between applications.
Make the Most of Your Disc
Diamond mineral combined with the flexible J-weight cloth backing, helps flexible diamond discs conform to the substrate while vigorously ridding it of burrs and other contaminants. But this disc can't do the job alone. That's why 3M™ created the 3M™ Roloc™ PSA Disc Pad — to help drive this powerful disc and make disc changeouts swift and easy.
Learn More About 3M Abrasives and Accessories
(PDF, 4.29 Mb)