Low profile allows for better power transfer from the tool to the work surface
Soft density pad provides flexibility to reduce loading
15 degree tapered edge is ideal for final finishing on flat or contoured surfaces
3M™ Stikit™ attachment provides excellent backing support and easy reuse, optimizing disc life
5/16-24 external threads are compatible with orbital or random orbital sanders
New one piece threaded shank for low vibration and improved balance
The 3M™ Stikit™ Low Profile Finishing Disc Pad is a soft density backup pad in 5 or 6-inch diameters for 5- and 6-inch abrasive discs. The soft density foam provides additional conformability and is ideal for final surface finishing applications following leveling and blending process steps.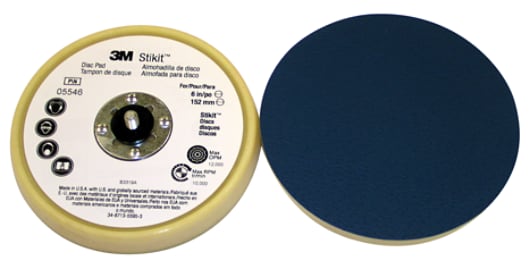 Disc pads have a vinyl face material which drives 3M™ Stikit™ Discs with Pressure Sensitive Adhesive backings
Stikit™ Attachment System
3M™ Stikit™ products allow you to focus more on the task and less on tooling. 3M Stikit system was designed for convenient disc changes between grades or applications. Stikit™ discs come ready to use with a pressure sensitive adhesive coating on the backside so that attaching them to the disc pad is as simple as pressing on a sticker. The disc can be peeled off of the disc pad just as easily, leaving a clean surface for your next disc. Attachment is quick, easy, and secure during use. Sanding, finishing, and surface conditioning products with the 3M™ Stikit™ attachment and removal system give you an efficient way to work through multi-step finishing processes and can be used again and again for the life of the abrasive.
Learn more about Stikit Line of Coated Abrasive Products
(PDF, 20.55 Mb)