Hook and loop attachment makes abrasive changes swift, simple and secure, reducing downtime
5/16 inch thick medium density foam pad balances conformability and resilience for QRS Flexible Diamond Disc
Neoprene foam pad resists compression and heat
Hookit™ system holds up under wet applications
The 3M™ Hookit™ Roloc™ Disc Pad combines conformability with resilience and is frequently used with 3M™ QRS Flexible Diamond Discs. Its threaded button quickly and securely attaches to a disc sander, and the hooks on the face offer swift and easy change-out of abrasives, saving valuable time during a sequence of micron grade changes. Pad must be used with proper Roloc™ disc pad hardware.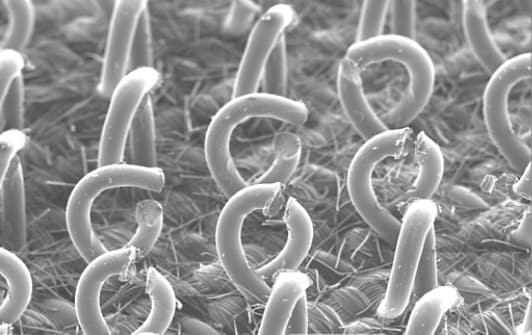 3M™ Hookit™ Tall J Hook
Focus On the Task at Hand with Reliable Hookit Attachment
The Hookit™ hook-and-loop system makes disc attachment, removal, and re-attachment clean and easy, and facilitates use and re-use of your disc for the full extent of its abrasive life. Hookit backup pads have J-shaped hooks of the type most commonly used in everyday hook-and-loop applications. These J-shaped hooks grip the brushed nylon loop backings of any mating 3M™ Hookit disc. And while attaching them is easy, they provide a remarkably secure attachment mechanism for even heavy duty sanding.
The Nitty Gritty
The 3M™ Hookit™ Roloc™ Disc Pad must be used with proper Roloc™ Disc Pad hardware for tool attachment. To ensure safe usage, operators must ensure that the maximum RPM listed for each backup pad and abrasive disc meets or exceeds the tool maximum RPM.
See Maximum RPM Guide and More Industrial Abrasive Accessories
(PDF, 4.3 Mb)
You Can Count on 3M Abrasives
At 3M, we pay attention to every detail of the abrasive process, from discs to tools to all the accessories in between. The 3M™ Hookit™ Roloc™ Disc Pad belongs to a long line of high-quality abrasive accessories produced by 3M to help businesses like yours operate faster, better and more efficiently.