5 mil nominal adhesive tape delivers exceptional shear strength for metals and HSE plastics
Provides very high resistance to solvents and humidity
Special PCK layflat liner for increased dimensional stability in high humidity storage, processing, shipping and application conditions
Double 4.2 mil PCK layflat liner virtually eliminates curling, buckling and rippling
200MP acrylic adhesive is considered the industry standard for graphic attachment and general industrial joining applications
Temporarily repositionable adhesive improves placement accuracy, reducing rework
3M™ Adhesive Transfer Tape Double Linered 7952MP provides outstanding adhesion to metal and high surface energy plastics. 200MP adhesive delivers excellent shear strength to resist slippage and edge lifting. The tape is temporarily repositionable for placement accuracy. It also performs well after exposure to humidity and hot/cold temperatures. Double 58 lb. PCK liners add dimensional stability.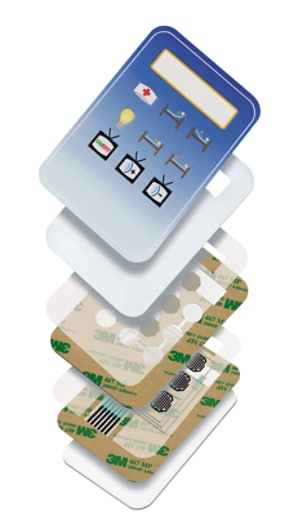 Layers of membrane switch with die-cut laminations
Excellent for Bonding to Metals and HSE Plastics
3M™ Adhesive Transfer Tape Double Linered 7955MP is tough, transparent and delivers shear strength that resists slippage and edge lifting. With excellent high temperature and UV resistance, it is ideal for graphic and nameplate attachment. This tape features a 5.0 mil 3M™ High Performance Acrylic Adhesive 200MP — the industry standard for graphic attachments. It is protected by two 58 lb. polycoated kraft paper liners suitable for most die-cutting operations. This adhesive transfer tape resists solvents, humidity and moisture, as well heat (up to 400°F/204°C for short periods).
Recommended Applications
Long term bonding of graphic nameplates and overlays ("subsurface" printed polycarbonate or polyester) to metal and high surface energy plastics
Bonding metal nameplates, serial and rating plates
Bonding graphic and backlit overlays
High speed processing of parts (medical components, durable labels, flexible circuits)
Lamination to industrial foams (PDF, 211.75 Kb) for rotary die-cutting of gaskets
Aerospace, medical and industrial equipment, automotive, appliance and electronics markets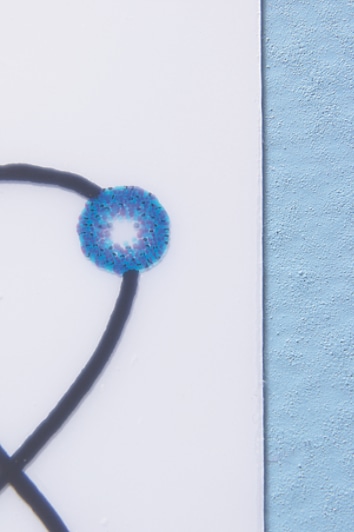 Less adhesive oozing at slitting and die-cutting helps improve rapid part processing
About Our High Performance Acrylic Adhesive 200MP
More than 30 years ago, 3M High Performance Acrylic Adhesive 200MP set the standard for bonding metal and high surface energy plastics. Today, this high-performance adhesive provides even higher levels of performance, with exceptional peel and shear strength for precision bonding. It offers excellent moisture and solvent resistance which enable it to form resilient, durable bonds that conform to a wide variety of applications. Once bonded, this adhesive will provide outstanding shear strength to resist edge lifting and slippage. 3M™ High Performance Acrylic Adhesive 200MP also offers excellent short-term heat resistance and will continue to perform at temperatures up to 400°F/204°C.
What are Adhesive Transfer Tapes?
Adhesive transfer tapes are rolls of pressure sensitive adhesive pre-applied to a special release liner. For application, the tape is simply pressed, adhesive side down, to a surface and the liner is peeled off. A variety of adhesive properties and liners are available to meet requirements for applications such as nameplate attachment to high and low surface energy plastics, appliance graphic overlays that perform in high temperatures, foam gasketing, web splicing, signs, posters, banners, point-of-purchase displays, and more.
Bringing Better Ideas to the Surface through Science
In our 3M Industrial Adhesives and Tapes Division, we apply the science of adhesion to deliver innovative solutions that improve the design and manufacturing processes of companies around the world. In the end, our technologies help customers like you deliver competitive products to the market faster and more efficiently.
---
Get Data for Finite Element Analysis
Pressure Sensitive Adhesive properties are frequency and temperature sensitive. 3M has developed Material Data Cards (MDCs) for common 3M PSAs for use with many commercially available FEA software applications. Learn more.
REQUEST A 3M MATERIAL DATA CARD