Low outgassing properties benefit electronic and automotive industries
Transparent, double sided, 2 mil (0.05 mm) adhesive transfer tape offers a thin profile combined with our ultra high temperature acrylic adhesive for a long-lasting bond
55# densified kraft white paper release liner printed with green 3M™ logo
High peel and shear strength creates bonds suitable for extreme conditions
Outstanding UV and chemical resistance for performance longevity
Short term temperature tolerance of up to 540 °F (280 °C)
Adhesive offers excellent heat resistance in high temperature environments such as lead free solder reflow
Our 3M™ Ultra High Temperature Adhesive Transfer Tape 9082 offers higher peel strength than most other acrylic formulations and exceptional shear strength even at elevated temperatures. The high performance and low outgassing adhesive system provides heat resistance in high temperature environment, including 540 °F (280 °C) in the short term.
Automotive under-hood
Flexible printed circuit (FPC)
FR4
Electronics
Solder reflow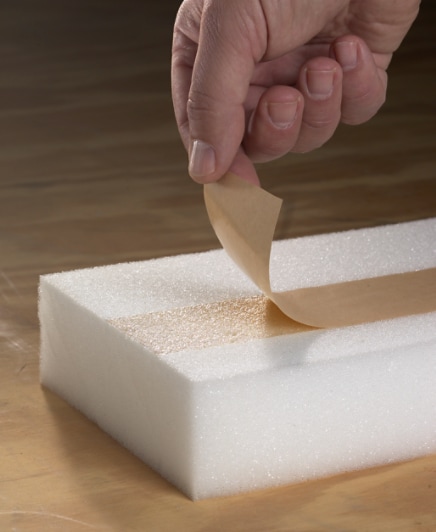 High bond strength and high temperature performance
Adhesive Transfer Tape for Ultra High Temps
Thermoplastic in nature, 3M™ Ultra High Temperature Adhesive Transfer Tape 9082 becomes softer as temperature increases and firmer as temperature decreases. As the adhesive becomes firmer, the adhesion performance generally increases. At low temperatures (lower than -40°F [-40°C]), the tapes become very firm and glassy; the ability to absorb impact energy is reduced. In contrast, adhesion strength reduces with increasing temperatures. This ultra-high temperature tape boasts 540°F (280°C) short-term heat resistance and 350°F (177°C) long term temperature tolerance. The ideal tape application temperature range is 70°F to 100°F (21°C to 38°C).

What are Adhesive Transfer Tapes?
Adhesive transfer tapes are rolls of pressure sensitive adhesive pre-applied to a special release liner. For application, the tape is simply pressed, adhesive side down, to a surface and the liner is peeled off. A variety of adhesive properties and liners are available to meet requirements for applications such as nameplate attachment to high surface energy (HSE) metals and medium surface energy (MSE) plastics, appliance graphic overlays that perform in high temperatures, signs, posters, banners, and more.

Bringing Better Ideas to the Surface through Science and Innovation
In our 3M Industrial Adhesives and Tapes Division, we apply the science of adhesion to deliver innovative solutions that improve the design and manufacturing processes of companies around the world. In the end, our technologies help customers like you deliver competitive products to the market faster and more efficiently.