Excellent bond to low surface energy substrates including powder coatings and plastics such as polypropylene (PP)
High adhesion to metals and high surface energy materials, making it suitable for bonding dissimilar substrates
Adhesive provides excellent holding power and anti-lifting properties
Good resistance to industrial chemicals, consumer chemicals, moisture and humidity
Ideal solution for general purpose attachment and assemblies of a wide variety of materials
Meets a wide variety of automotive and OEM specifications
Our 3M™ Adhesive Transfer Tape 9671LE is a versatile, market proven, 2 mil (0.05 mm) transfer tape on a printed release paper liner. Featuring 3M™ 300LSE acrylic adhesive, this tape has a long and proven history of reliably bonding a wide variety of similar and dissimilar materials such as metals, most plastics, glass, papers and painted surfaces.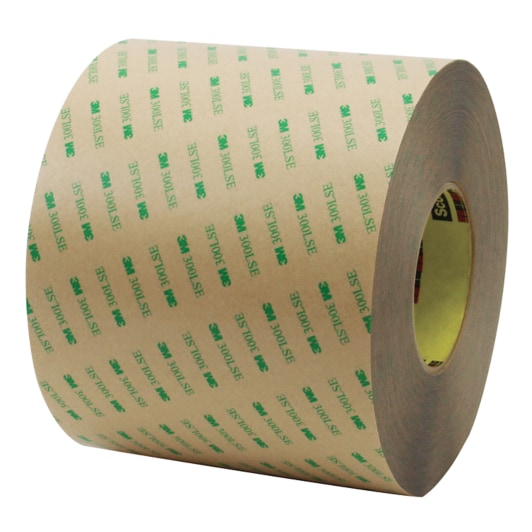 3M™ High Strength Acrylic Adhesive 300LSE has good chemical and humidity resistance
Versatile, Market Leading Performance
For applications requiring premium performance and a thin profile, use our versatile 3M™ Adhesive Transfer Tape 9671LE. This tape is a market leading solution for bonding plastics in a variety of applications across a broad spectrum of industries. It offers good chemical, humidity and moisture resistance, as well as performance across a wide temperature range (from -40°F/-40°C to 300°F/148°C). The bond strength increases as a function of time and temperature, and has very high initial adhesion. This tape is supplied on a printed 83 lb. polycoated kraft paper liner ideal for die-cutting and converting applications. The thicker liner assists with easy liner removal. Part of the 3M™ High Strength Acrylic Adhesive 300LSE family, this tape is manufactured using a solventless manufacturing process. 3M™ Adhesive Transfer Tape 9671LE meets UL 969 (reference file PGGU2.MH26206).
Recommended Applications
Consumer electronic device assemblies such as phones, tablets and wearable devices
Industrial electronic device assemblies such as workstations
Plastic assembly bonding in a variety of industries
Various assemblies in the automotive industry
Application and assembly of components on appliances
Medical equipment and device fabrication
General industrial applications such as trim attachment
Excellent Adhesion to a Variety of Surfaces
3M™ High Strength Acrylic Adhesive 300LSE is an acrylic adhesive family designed to provide very high bond strength to most surfaces, including a wide variety of similar and dissimilar materials. This includes most plastics, metals, glass, papers and painted surfaces. It features good chemical, solvent, moisture and humidity resistance. This adhesive can perform at temperatures ranging up to 300°F/148°C.
Adhesive Family
Features
350
• Best in class for high temperature resistance 350°F (177°C) and shear strength
• Excellent solvent resistance for harsh environments
• Best for challenging applications
360
• More strength with less adhesive
• Quick stick properties to many LSE substrates
• Lowest ooze
• Low odor
• Excellent convertability (die-cut)
300LSE
• Best in class for oily substrates
• Thicker "Go To" tapes for LSE substrates
• Good chemical and humidity resistance
300MP
• Multi-purpose use for many applications
• Bonds very well to foam, fabrics and many plastics
• Economical attachments of graphics
Note:
This technical information and data should be considered representative or typical only and should not be used for specification purposes.
What are Adhesive Transfer Tapes?
Adhesive transfer tapes are double sided tapes comprised of a uniform layer of pressure sensitive adhesive pre-applied to a special release liner. For application, the tape is simply pressed, adhesive face side down, to a surface and the liner is peeled off to expose the backside of the adhesive for attachment. These adhesives and liners are available in a variety of thicknesses to meet a broad selection of applications in numerous industries.
Learn more about 3M Industrial Adhesives and Tapes
(PDF, 45 Mb)
Reduce Harmful Processes
This 3M™ bonding tape is an example of a product that is produced via a solventless manufacturing process. Purchasing this tape instead of one created using a solvent-based manufacturing process can result in GHG emissions reductions that may be counted by your company, called Scope 3, Category 1 GHG reduction. Scope 3 emissions are all indirect emissions that occur in the value chain of the reporting company, including both upstream and downstream emissions.
---
Get Data for Finite Element Analysis
Pressure Sensitive Adhesive properties are frequency and temperature sensitive. 3M has developed Material Data Cards (MDCs) for common 3M PSAs for use with many commercially available FEA software applications. Learn more.
REQUEST A 3M MATERIAL DATA CARD