3M™ Adhesive Transfer Tape 465 offers instant adhesion to metals, glass, wood, papers and plastics. It features an easy liner release for both manual and hand applications, which makes it a perfect choice for high-speed flying spices and zero splices on most grades of paper in commercial print applications.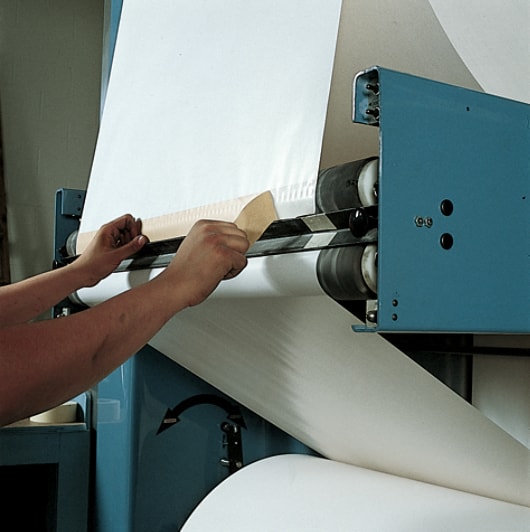 For overlap splices, simply press the adhesive side of the tape to one of the surfaces to be spliced—peel off the liner for a neat strip of adhesive for immediate bonding
Offers High UV, Humidity and Moisture Resistance
With our 3M™ Adhesive Transfer Tape 465 you can keep production processes moving in rapid fashion. Splicing foils, fabrics, films and papers has never been easier. This 2 mil, high-tack adhesive tape features an aggressive bond that adheres on contact. It has high UV, humidity and moisture resistance, and good solvent resistance, to withstand challenging work environments. By using a robust 60 lb. densified kraft paper release liner, this tape provides reliable performance for industrial applications, such as die-cutting and automated dispensers.
Recommended Applications
High-speed flying splices and zero speed splices on most grades of paper
Splicing foils, films and fabrics
Laminating adhesive for foams and photos
Attaching metal and plastic nameplates
Mounting promotional items and posters
Core starting
3M™ Adhesive 400 Provides Good Holding Power
3M™ Adhesive Transfer Tape 465 features aggressive 3M™ Adhesive 400, formulated for quick adhesion and good shear strength and holding power. This high performance adhesive offers a consistently strong bond in temperatures up to 250°F/121°C on a variety of substrates including metal, glass, wood, paper, paint and many plastics.
Understanding Adhesive Transfer Tapes
3M adhesive transfer tapes are rolls of pressure sensitive adhesive provided on a special release liner. The tape consists of an adhesive layer only, and does not have any type of supporting carrier such as film, paper or tissue. For application the tape is positioned adhesive side down to a surface and the liner is removed, exposing the backside adhesive to the joining surface.
Learn More about 3M™ Non-Repulpable Splicing Tapes
(PDF, 747.2 Kb)
Bringing Better Ideas to the Surface through Science and Innovation
In our 3M Industrial Adhesives and Tapes Division, we apply the science of adhesion to deliver innovative solutions that improve the design and manufacturing processes of companies around the world. In the end, our technologies help customers like you deliver competitive products to the market faster and more efficiently.
Find More 3M Industrial Adhesives and Tapes
(PDF, 12.28 Mb)