Transparent, double sided, 2.0 mil (0.05 mm) VHB™ transfer tape offers a thin profile combined with our high strength acrylic adhesive for a long-lasting bond
Short term temperature tolerance of up to 500 °F (260 °C)
Operating temperature tolerance of up to 300°F (149°C)
Conforms to a variety of indoor and outdoor applications
58# polycoated kraft paper liner printed with 3M™ VHB™ branding
Durable adhesive is chemical, UV and solvent resistant
Ease of application increases productivity
3M™ VHB™ Adhesive Transfer Tape F9460PC is a thin, double sided tape capable of conforming to a wide variety of applications. Designed with 2.0 mil 3M™ High Performance Acrylic Adhesive 100MP, our VHB™ Adhesive Transfer Tape F9460PC establishes exceptional holding power and long-lasting adhesion for fast, strong results.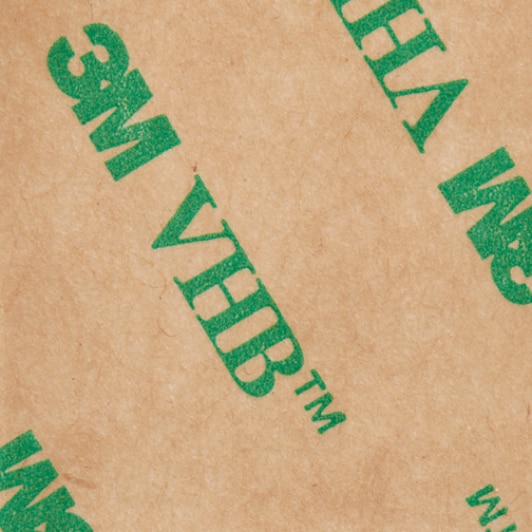 Moisture Resistant Tan Paper
Replacing rivets, spot welds, liquid adhesives and other permanent fasteners
Bonding decorative metal trim
Bonding flexible printed circuits (FPC) to aluminum stiffener or heat sinks
Panel to frame bonding
All That VHB™ Tape Can Offer
3M™ VHB™ Adhesive Transfer Tape F9460PC comes with a 4.2 mil, 58# polycoated kraft paper release liner. This liner boasts moisture stability, enables easy die cutting and stands up to challenging applications. Our VHB™ tape enhances the appearance of your product by eliminating rivets and screws. In most cases, fastening with our VHB™ transfer tape is a quicker and easier process than drilling, fastening or using liquid adhesive. Quick adhesion and ease of application delivers fast results and increased productivity.
This VHB™ tape features an adhesive transfer tape with acrylic adhesive. The result is an extraordinarily strong tape that adheres to the broadest range of substrates, including glass, metal, polyimide, rigid PVC, acrylic, polycarbonate and polystyrene.
Explore the Possibilities
Explore the advantages that a reliable solution offers. 3M™ VHB™ Adhesive Transfer Tape F9460PC provides unlimited design and application possibilities. Enjoy the increased productivity through instant handling strength and ease of application. Proven to be a durable, long-lasting solution, our VHB™ Adhesive Transfer Tape is formulated for success.
3M™ VHB™ Adhesive Transfer Tape is available with varying adhesive thickness. For 5 mil (0.13 mm) see
F9469PC
; for 10 mil (0.26 mm) see
F9473PC
.
View Adhesives and Tapes Design Guide
(PDF, 20.14 Mb)