Paste compound specially designed for removing fine grit sanding scratches
Medium cutting capability is suitable for paint and clear coat
Produces minimal swirl marks, reducing finishing work
Buffs to high gloss for consistently professional results
Adds range to Perfect-It™ Paint Finishing system compounding stage
Our 3M™ Paste Rubbing Compound is specially designed to remove fine 1200, 1500 and 2000 grit sanding scratches in a wide range of automotive paint including clear coat. This compound for collision repair adds a fast cutting option to our complete paint finishing system, created for deeper colors and glossier finishes. Use with either a wool or foam compounding pad.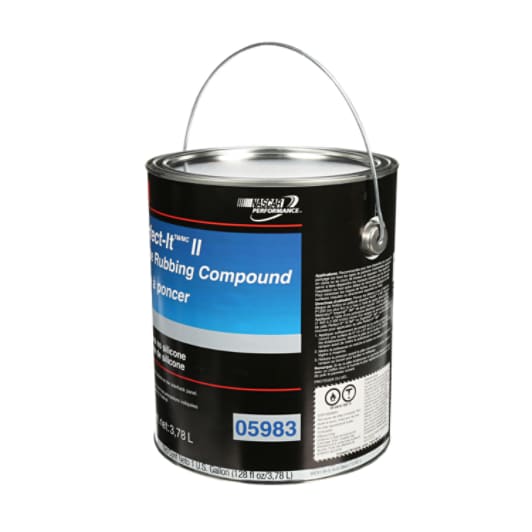 Paste Rubbing Compound expands the range of what's possible when paint finishing in collision repair.
The Finer Points of Compounding
Part of our Paint Finishing System, our 3M™ Paste Rubbing Compound is designed for removing fine scratches left during the color sanding process with minimal compound swirl marks. This fast cutting paste applies easily with a polisher and a 3M™ compounding pad. This paste rubbing compound removes 1200, 1500 and 2000 grit sand scratches on automotive clear coats for a professional high gloss finish. For the fastest cut, use a wool pad like 3M™ Wool Compounding Pad PN05711. For a finer finish, use a foam pad like 3M™ Foam Compounding Pad PN05723.
Our Paint Finishing System
We developed our 3M™ system to produce showroom grade finishes with deep color and rich gloss. Our system uses a progressive series of abrasives, buffing pads, and proprietary polishes across the repair. The stages consist of sanding, scratch refinement, compounding, machine polishing, and swirl elimination. The level of work and stages needed for paint repair depend on the severity of the paint imperfection and 3M™ provides an effective solution for any level of clear coat and paint repair.
Better Science Toward the Perfect Finish, Only from 3M
Paste Rubbing Compound expands the range of what's possible when paint finishing in collision repair. Its non-gritty, fast cutting capability and its paste consistency make it ideal during the critical compounding stages of auto paint repair and restoration. 3M™ Paste Rubbing Compound reduces time and saves you money. It's another way that 3M helps you strive toward the perfect finish in your collision repair operation.