3M™ Finesse-it™ Polish K211 is a high-viscosity polish used to remove A3, A5 or A7 sand scratches from OEM clearcoats. Part of the 3M™ Trizact™ Finesse-it™ Paint Defect Repair System, use this polish with a rotary or random orbital buffer.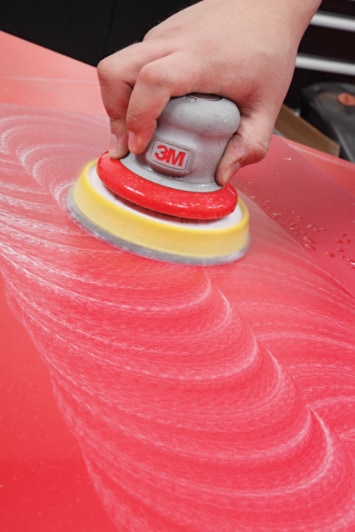 Fast cut rate and fine finish with one polish
Bigger Isn't Always Better
Now we're making it easier than ever for you to make high-quality repairs to clear coats. Our 3M™ Finesse-it™ Polish K211 and the rest of the 3M™ Finesse-it™ polishes are available in 8-oz. bottles so you can order just the right amount for testing or evaluation.
Fast Cut and Fine Finish in One Bottle
It is very difficult to get a high cut rate and a fine finish with one product, but 3M™ Finesse-it™ Polish K211 does it. It maximizes the speed of cut while achieving a swirl-free, scratch-free, haze-free finish on many automotive clearcoats for a brilliant finish.
Part of 3M™ Trizact™ Finesse-it™ Paint Defect Repair System of abrasives, polishes, accessories and power tools for paint defect repair in OEM operations, our polishes are engineered to remove sand scratches and swirls left behind from previous defect repair or to improve the finish from the previous compounding step.
3M™ Finesse-it™ Polish K211 is water-based and does not contain silicones. Use with a rotary buffer and wool buffing pads or a random orbital buffers and foam buff pads for best results.
3M Makes Start to Finish Systems and Solutions
3M™ Finesse-it™ Polish K211 repairs surface defects on marine and aerospace coatings, as well as automotive clearcoats. Our polishes perform on lacquered wood, solid surfaces, gelcoat, powder coat, industrial paint, acrylic, and glass, as well.
3M Science. Applied to Every Part You Polish
For over 100 years, our scientists at 3M have developed technologies, dedicated ourselves to thorough research and invested in only the highest quality ingredients in the products we make.
At 3M we are driven: to make the lives of those who use our power tools, accessories and polishes better, brighter and safer. Every day, part by part.