3M™ Hot Melt Adhesive 3748 VO is a 100% solids thermoplastic, general purpose adhesive. This self extinguishing adhesive won't burn when the source of combustion is removed. It offers good thermal and electrical properties for printed wiring, circuit board and other electronic applications and is shock resistant for parts that are subject to vibration or other movement.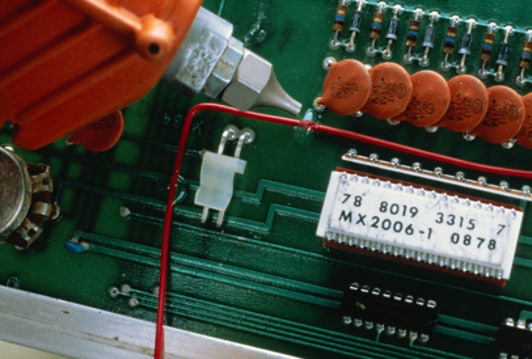 Rigidize components on printed circuit boards to add stability during assembly, shipping and end use
Uniquely Versatile
We formulate 3M™ Hot Melt Adhesive 3748 VO to cure to a strong, flexible bond for shock and vibration resistance that ensures a reliable and lasting bond. Our thermoplastic hot melt, 100% solids adhesive provides good peel adhesion and thermal shock properties, the unequal expansion of different components, along with the heat resistance necessary in electronic and other environments. It offers excellent electrical properties which make it ideal for use on printed wiring board and other electronic bonding applications. It bonds well to challenging surfaces such as polyolefins and other plastics. In addition, this versatile and unique formula is non-corrosive to copper and other metals.
Recommended Applications
Heavy duty electrical cords and connectors
Electronics in plastic cases
Circuit boards
Woodworking
Furniture
Automotive
Transportation
Aerospace
General industrial
Upholstery
Point of Purchase (PoP) display
Versatile Formula
3M™ Hot Melt Adhesive 3748 VO is self-extinguishing and has a UL 94 VO rating. In addition to its exceptional electronic applications, our adhesive formula is also useful in many general industrial bonding and sealing applications where a self-extinguishing characteristic is required. Throughout various industries, 3M™ Hot Melt Adhesives are used for potting and encapsulating where their flow and conformability allow them to fill into, or dome over, complex shapes. The shock-resistant formula protects components and wiring connections against vibration, minor impact and thermal shock.
Using 3M™ Hot Melt Adhesives uniformly distributes stress along the entire bond line. Nuts, bolts and other fasteners concentrate stress at a point which can decrease physical properties of the substrates being assembled. Uniform distribution along the bond line provides good fatigue resistance and the flexible properties of 3M™ Hot Melt Adhesive 3748 VO minimize stress from vibration or other movement. While many of our 3M adhesives provide a strong bond, they also add an effective seal against dirt, dust, water and other environmental conditions. Using hot melt adhesives is quicker and easier than soldering, requiring no soldering flux or associated fumes.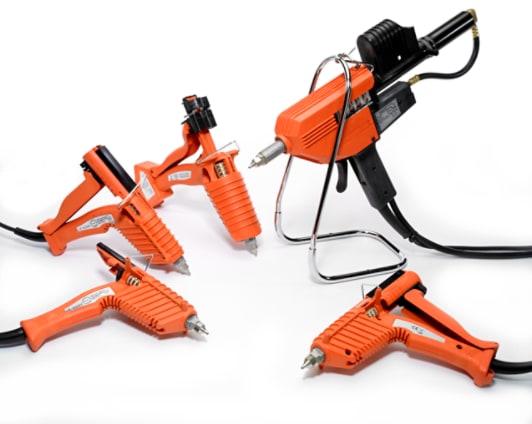 Adhesive can be dispensed with 3M™ Scotch-Weld™ Hot Melt Applicator PG II, 3M™ Scotch-Weld™ Hot Melt Applicator TC, or the 3M™ Scotch-Weld™ Hot Melt Applicator TC Q and EC
Hot Melt Characteristics
Low-melt adhesives/hot-glue sticks have a relatively low melting point of approximately 250 - 270° F/127 - 132° C and are applied with low-temperature applicators, commonly referred to as hot-glue guns. Low-melt adhesives are beneficial in that they can be used to bond heat sensitive materials such as foam and a range of plastics. They provide a nearly instant bond that allows the bonded surfaces to be separated when reheated. The aggressive hot tack nature of low-melt adhesives speeds up production and assembly operations that involve light gage metals, some plastics, and other non-fibrous materials in addition to building display boards, floral displays, and hobby projects. Low-melt adhesives are also widely used in manufacturing, assembly and packaging processes.