3M™ Hot Melt Adhesive 3797 is a temperature resistant, low viscosity adhesive which flows easily into small areas for effective coverage and protection, ideal for electrical potting. This 100% solids thermoplastic adhesive also provides a quick 30-second open bead time for potting even at depth. It is best used with 3M™ Hot Melt Applicator PG II – excellent for high volume operations.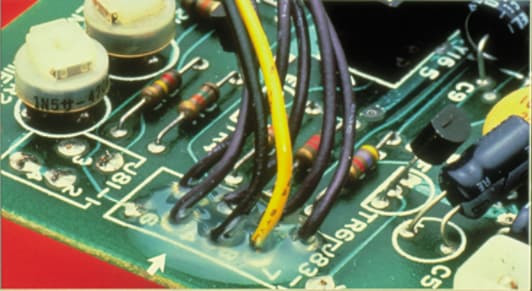 Off-white adhesive reaches bond strength in seconds
A Hot Melt Adhesive Ideal for Electrical Potting
Ideal as an electrical potting adhesive and for other applications involving electrical and electronic components, our 3M™ Hot Melt Adhesive 3797 is a 100% solids thermoplastic low melt adhesive that combines low viscosity with high temperature resistance. This makes it ideal for applications where protection and long-term stability are critical. This hot melt adhesive is formulated to flow easily and smoothly into small areas such as those on printed circuit boards and for quick set times — about 30 seconds of open time for effective deep potting and for added efficiency in high-volume jobs.
Recommended Applications
Electrical potting even at great depth
Securing wires to resist strain and breakage
Bundling wires for convenient handling
Rigidizing components on printed circuit boards to add stability during assembly, shipping and end use
Terminating coils
Cable strain relief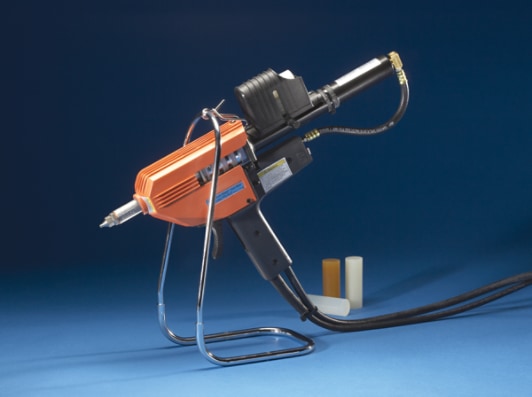 Engineered for efficient application with easy-to-use 3M portable applicator
Efficiency for High Volume Application
We manufacture 3M™ Hot Melt Adhesive 3797 in PG sizes for use with the 3M™ Hot Melt Applicator PG II, a high-output pneumatic applicator that lets you apply up to 7.5 lbs. of adhesive per hour. This applicator combines with the fast adhesive open time for maximum efficiency in high-volume operations.
About Hot Melt Adhesives
Hot melt adhesives/hot-glue sticks have a relatively hot melting point that ranges between approximately 250-380°F/121°C, depending on the formulation, and are applied with hot-melt applicators, commonly referred to as hot-glue guns. Hot-melt glues provide a nearly instant bond between many plastics, paper and wood, but when the bond is reheated, some varieties will soften, allowing the bonded surfaces to be separated. The quick-stick nature of hot-melt adhesives speeds up operations in packaging and production.
Click here learn more about 3M™ Scotch-Weld™ Hot Melt Bonding Systems.
(PDF, 669.24 Kb)
The Science of Better Adhesives from 3M
Since 1925 when one of our lab assistants invented masking tape, 3M has been applying science to life — developing adhesive products and technologies that help entire industries and individual businesses worldwide. The work that began with a single 3M engineer now spans decades and generations. And all of it goes into each of our adhesive products like 3M™ Hot Melt Adhesive 3797 — to help businesses like yours operate faster, better and more efficiently.