3M™ Adhesion Promoter K500 is a liquid promoter used to improve the adhesion of 3M™ Acrylic Foam Tapes to most ethylene propylene diene monomer (EPDM), polypropylene (PP), chlorinated rubbers, acrylonitrile butadiene styrene (ABS) and certain polyethylene terephthalate (PET)/polybutylene terephthalate (PBT) blends used in automotive exterior trim applications.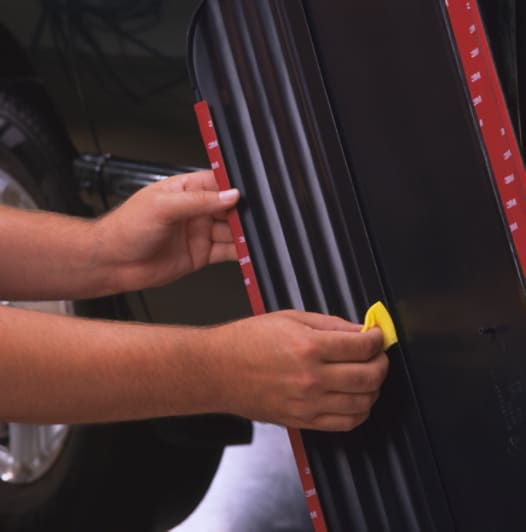 These new promoters have been formulated to significantly reduce the hazardous air pollutant (HAPS)
Versatile Adhesion Promoter for 3M™ Acrylic Foam Tapes in Automotive Applications
3M™ Adhesion Promoter K500 is a liquid promoter used for most EPDM, polypropylene, chlorinated rubbers, ABS, AES compounds and certain PET/PBT blends. Since formulations and surface energies for these materials vary, each application should be verified through testing. 3M™ Adhesion Promoter K500 is a moisture cured system that is specifically formulated for use with 3M™ Acrylic Foam Tapes for automotive applications.
Preparing the Surface Before Application
The bonding surface should be clean and dry. Contaminated surfaces should be cleaned with an untreated, lint-free cloth and 3M™ General Purpose Adhesive Cleaner (Part No. 08984) or 3M™ Prep Solvent 70 (low VOC cleaner, Part No. 08973). Follow this by wiping with another untreated, lint-free cloth and isopropyl alcohol.
Easy to Apply
Apply a thin, uniform coating to the bonding surface using the minimum amount that will fully coat the surface. This is typically less than 0.002 inch thick. Allow the adhesion promoter to dry thoroughly before applying tape. Although this is usually accomplished in less than one minute, allowing 10 minutes yields the ultimate adhesion. For best results apply tape within 30 minutes after application of primer. Be sure the primed surface remains free from contaminants prior to laminating the tape. For clean-up tasks, 3M Adhesion Promoter K500 can be removed with acetone solvent.
Required Equipment for Application
3M™ Adhesion Promoter K500 can be applied with a felt tip applicator, pressurized flow gun, knurled roller or other similar type applicator. Applicator heads should be cleaned or replaced regularly.
Recommended Applications
ABS
TPO
EPDM
PP
TPV/TPE blends
Better Science for Better Adhesion from 3M
Since 1925 when a 3M lab assistant invented masking tape, 3M has been applying science to life — developing adhesive products and technologies that help entire industries and individual businesses worldwide. The work that began with a single 3M engineer now spans decades and generations and all of it goes into each 3M product developed for automotive OEM, like 3M™ Adhesion Promoter K500.
Learn more about 3M™ Adhesion Promoter
(PDF, 20.92 Kb)