Tested up to 2 hours in accordance with ASTM E814 (UL 1479) & CAN/ULC-S115
Designed for non-metallic pipes
One-piece metal construction requires no assembly
Tabs let installers anchor penetrations to slabs quickly and permanently
Our 3M™ Fire Barrier Plastic Pipe Device is a one piece metal collar assembly encasing 3M's heat-expanding 3M™ Fire Barrier FS-195+ material. Used to firestop up to 6" (168.3 mm actual) non-metallic pipe, cables and combos in new and retrofit installations. Achieves up to 2-hour fire protection in tested and listed systems.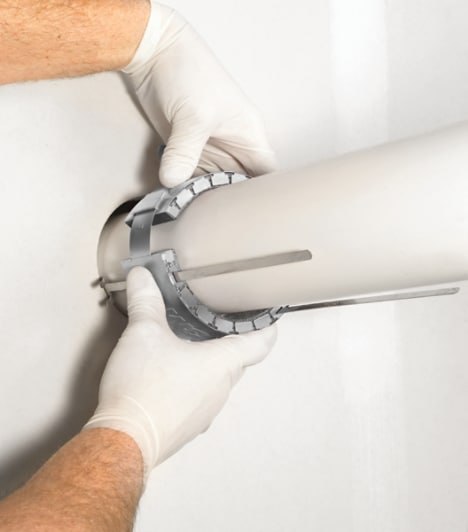 Ultra-fast anchoring system-one piece makes installation easier and quicker
A Quick Fit for Durable Firestop Protection
Incorporates our 3M™ Fire Barrier Wrap Strip FS-195+ and is specifically designed to be a firestop for non-metallic, 6" pipe penetrations. This one-piece metal collar is built to fit securely around the firestop wrap strips — no additional assembly is required. Tested for up to 2 hours of fire protection in tested and listed systems, the device holds firestop material in place and helps ensure proper closure during fire. Metal tabs make for fast, easy anchoring to wall or floor slabs with common tools and hardware such as toggle bolts for gypsum or masonry anchors for concrete. (Hardware sold separately.) The result is a permanent, fixed firestop that also contributes to the structural stability of the penetration.
Recommended Applications
The Science of Better Fire Protection from 3M
Since 1925 when one of our lab assistants invented masking tape, 3M has been applying science to life —developing adhesive products and technologies that help entire industries and individual businesses worldwide. The work that began with a single 3M engineer now spans decades and generations. And all of it goes into each of our adhesives, sealants, protective coatings, along with the best ways to use them — including 3M™ Fire Barrier Plastic Pipe Device — to improve performance, and to help businesses like yours operate faster, better and more efficiently.
Find More Firestopping Solutions for Plumbing Applications
(PDF, 417.46 Kb)