Scotch-Brite™ Roloc™+ Combi-R Wheel is a unique finishing wheel composed of alternating Scotch-Brite™ non-woven flaps and aluminum oxide coated abrasive sheet. Conformable pads provide a large footprint and cushion the abrasive sheet to create a brushed, decorative finish. This wheel uses the Roloc™+ quick attachment system.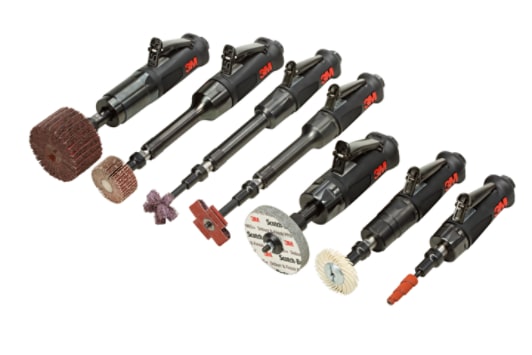 Roloc™+ attachment holds wheel securely and provides change-out without the need for attachment tools
Long Shaft Enhances Wheel Stability
The longer shaft supports the wheel for stability and reduces side-loading, helping it remain perpendicular to the work surface.

May be used with straight die grinder
Great for Surface Finishing and Blending
The Scotch-Brite™ Roloc™+ Combi-R Wheel is designed for a variety of surface finishing and blending operations on a wide variety of surfaces such as aluminum, stainless steel, copper, and brass.
Our Scotch-Brite™ Roloc™+ Combi-R Wheel uses aluminum oxide abrasive mineral. Aluminum oxide is a popular choice among industrial professionals because of its cut-rate and long life. This mineral is a tough, durable abrasive that self-fractures to expose fresh cutting edges in use, whereas traditional abrasives, such as garnet, quickly wear down with use. Due to its high cut-rate, hardness, strength, and low heat retention, aluminum oxide mineral is widely used in grinding applications in addition to sanding and finishing use. Aluminum oxide is suitable on a wide variety of substrates in both woodworking and metalworking, including ferrous alloys.
The Many Benefits of Scotch-Brite™ Abrasives
Our Scotch-Brite™ industrial abrasives are unique surface conditioning products with abrasives incorporated into non-woven nylon or synthetic fibers. Combining abrasives with the fibers creates an abrasive system that delivers consistent results for the life of the product. The open-web material runs cool and is load resistant, which keeps the abrasive minerals cutting at high performance by limiting clogging of the fibers.