Ideal for heavy-duty steel and concrete cleaning and descaling projects
Helps remove scale, old coatings and surface contaminants
Tungsten carbide shots adhered to peening rivets give the operator more control over peened surface
Heavy Duty Roto Peen Flap Assemblies come with the RX attachment system
Unlike conventional peening methods, including sandblasting, the unique construction promotes a cleanlier environment and less debris
Our 3M™ Heavy Duty Roto Peen (HDRP) Flap Assembly effectively cleans and descales both steel and concrete.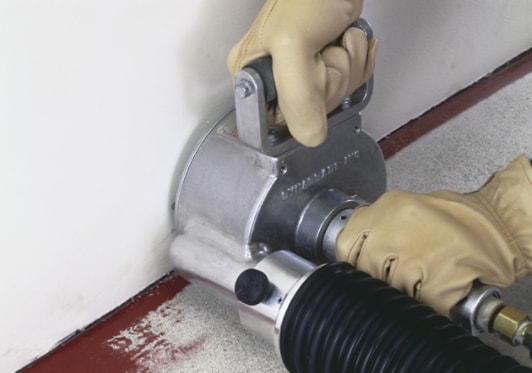 Designed for Better Control
We engineered the 3M™ Heavy Duty Roto Peen Flap Assembly by adhering tungsten carbide shots to peening rivets, which are attached to heavy-duty flaps. During conventional sandblasting methods, material is released through the air to strike and impact the substrate. However, our tungsten carbide shots remain adhered to the flaps throughout the peening process, giving the operator total control over the peened area. As the wheel rotates, the shots on each flap repeatedly hit the substrate to remove scale, old coatings and surface contaminants. Peening is a cold working process for metal, in which repeated stress applied to the material's surface strengthens the material through compression. The peening method improves the part's ability to resist fatigue, fracture and stress corrosion cracking. The Flap Assemblies are mounted into a
HDRP Hub
or
RX Hub
, which are part of the peening equipment. Be sure to contact your industrial distributor for peening equipment or equipment suppliers.