3M™ Trizact™ engineering means as the wheel wears fresh diamond mineral is exposed to the workpiece delivering a repeatable and consistent finish
Produces a smooth, mirror finish that helps cutting tools last longer, cut faster
Construction generates less heat and friction so tools last longer
Improved tool aesthetics and performance please customers
Allows automated polishing on many CNC machines and other automated equipment
Delivers fast, consistent results on carbide and high-speed tool steels
The 3M™ Trizact™ Diamond Polishing Wheel 685DC incorporates advanced 3M technology to deliver a smooth, mirror finish on a variety of tool materials. It can be integrated seamlessly into existing manufacturing processes on a variety of CNC grinding machines.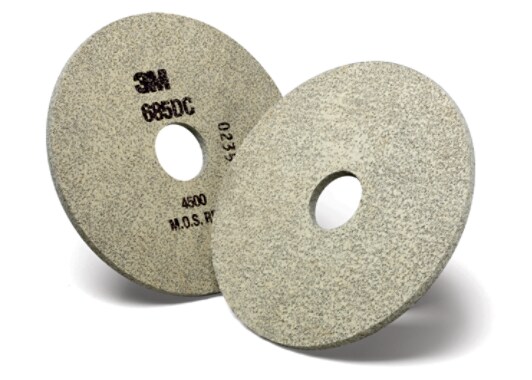 As the wheel wears, fresh, sharp diamonds are exposed
Breakthrough Technology Automates Tool Polishing
At 3M, we've incorporated new bonding technology into the 3M™ Trizact™ Diamond Polishing Wheel 685DC. The "Trizact bond" produces phenomenal finish results without profile or cutting edge distortion, while maintaining a polished finish. Designed primarily to polish the flutes of drills and endmills, our 3M™ Trizact™ Diamond Polishing Wheel 685DC combines the attributes of resin-bond diamond and non-woven abrasive wheels. This combination allows for efficient polishing while maintaining enough rigidity to be trued and dressed and to consistently follow complex tool geometry.

Loaded With Diamond
We loaded this wheel with diamond particles dispersed uniformly throughout the wheel. As the wheel wears, fresh, sharp diamond is constantly exposed to the workpiece to keep cutting sharp. The resulting consistent, predictable performance lends to productivity, fewer rejects and rework, and increased quality of parts.

Designed for Automated Truing and Dressing
While it can be used on a portable tool, 3M™ Trizact™ Diamond Polishing Wheel 685DC (PDF, 7.4 Mb) was designed for use on CNC grinding machines and integrates seamlessly into existing manufacturing processes.

More Perfect Finishes Function Better
Polishing round tools to a mirror finish can significantly improve tool life and quality. More perfect finishes help the tool stay cooler and sharper in use. A finer finish in the flute area of a drill or endmill allows chips cut or abraded from the surface of the workpiece to flow more easily with less friction and less heat. Better chip flow contributes to better surface finish in the machined part as well as longer tool life.

Recommended Applications
Oil and Gas

PCD cutters and drilling bits
Thermal spray — wear surfaces

Cutting Tools

Indexable insert grinding
Round tools

Primary Materials

Roll grinding
Superfinishing
A Cutting Tool Grinding and Polishing System
Our 3M™ Trizact™ Diamond Polishing Wheel 685DC is part of the 3M™ Cutting Tool Grinding and Polishing System, a matched collection of equipment and consumables, optimized to allow fast, predictable, automated tool grinding and polishing. Each component of our automated system (including the 3M™ Truing and Dressing Machine and 3M™ Superabrasives) can be used separately or in combination to create a complete, integrated grinding/polishing system that is easily adaptable to most existing production processes.

Additionally, 3M offers a wide range of wheel shapes and configurations ideally suited for round tool grinding. 3M Superabrasive Wheels are available in a variety of constructions for general purpose grinding and for use on CNC machines, available with either CBN or diamond abrasive.