3M™ Flap Wheel 244D is a general-purpose flap wheel designed for grinding, polishing, sanding and finishing. Versatile aluminum oxide mineral cuts sharp, while the flap construction helps deliver fine finishes with individually-mounted abrasive flaps that continually lap the surface.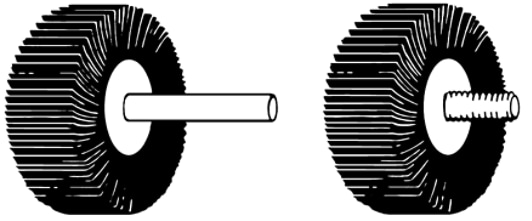 T83: 1/4" Straight (left) and T84: 1/4— 20 Threaded (right)
Type 83 vs. Type 84 Attachments
3M™ Flap Wheel 244D is offered in type 83 (T83) or type 84 (T84). The flap wheel is offered in both attachment styles, so operators can select the right wheel that aligns with their power tools. T83 has a 1/4" straight shaft that connects to a tool, such as a die grinder, and is locked in place with a collet. The longer shaft length of T83 may be desirable when operators need a bit of an extended reach between abrasive and workpiece. Conversely, T84 is a 1/4 - 20 threaded spindle mount, so it threads directly onto the tool. Its reach is shorter, which may be desirable when operators desire closer contact with the workpiece. Overall, this wheel may be attached to bench motors, die grinders and inline sanders.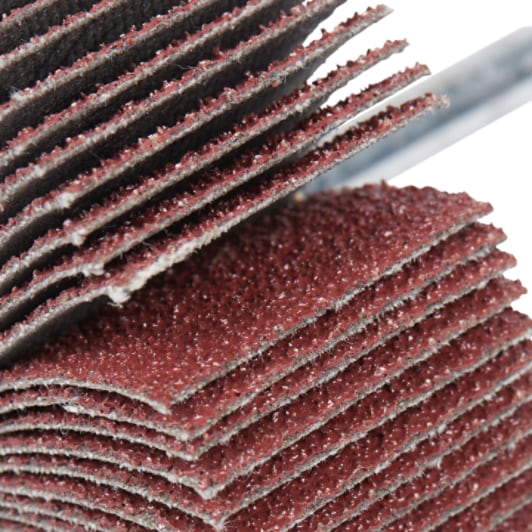 Abrasive flaps offer a long lasting supply of fresh abrasives and load resistant design
Under the Microscope: Flaps with Aluminum Oxide and Rayon Cloth
Each flap on the 3M™ Flap Wheel 244D contains aluminum oxide mineral, which is resin bonded to an X-weight cotton cloth backing. The rayon cloth backing is flexible, firm and resistant to edge wear. Overall, cloth-backed abrasives are a good match for metalworking applications. Still, the cloth is malleable, so it can gently lap the workpiece without gouging the part. Additionally, among cloth backing weights, X weight tends to be heavy and stiff. This durable backing is what helps 3M™ Flap Wheel 244D effectively grind and polish. Aluminum oxide mineral is adhered to the flaps using a resin bond, which helps with heat resistance. As noted above, the mineral itself is a popular choice among industrial professionals, due to its fast cut rate, hardness and strength.

Altogether, coated abrasive flap wheels are the ideal choice for light grinding, blending, graining and scale removal on a variety of metals. The abrasive flaps offer a long-lasting supply of fresh mineral and a load-resistant design to help prolong abrasive service life and keep the wheel cutting sharp.

Learn More about 3M™ Metalworking Products. (PDF, 73.23 Mb)