3M™ Ceramic Abrasive Grain offers excellent cut rate and life for better performance
High speed rating allows quick cutting with efficient product wear
Rigid, reinforced resin-bonded wheel is designed to be used both as a depressed center grinding wheel and as a cut-off wheel for use on stainless and mild steel
Wheel must have a maximum operating speed greater than or equal to the maximum speed of the power tool used
MUST BE USED WITH A WHEEL GUARD THAT FITS THE SIZE OF THE CUT-OFF WHEEL
Our 3M™ Green Corps Cutting/Grinding Wheel is a durable, fast-cutting wheel featuring high cut rates and a long life. These versatile wheels are designed to be used both as a depressed center grinding wheel and as a cut-off wheel – making them ideal for cutting, grinding, gouging and more.

Type 27 depressed center wheel
Convenient, Inclusive Design
Unlike other abrasive discs, which are designed for just one job, our 3M™ Green Corps™ Cutting/Grinding Wheel can meet multiple challenges without the need for swapping out disks. The flat, reinforced inner surface can grind down or shape objects, while the thin outer edge can be used to make lateral cuts and gouges. This inclusive design negates the need for multiple abrasive tools, and can help to maximize production.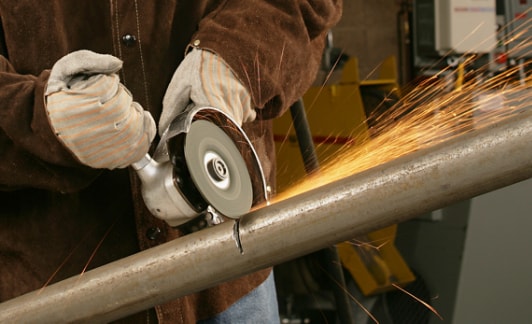 Safe to grind outer face and cut with edge of same wheel
3M™ Ceramic Abrasive Grain
3M™ Green Corps™ Cutting/ Grinding Wheel uses ceramic abrasive grain, which offers exceptional durability and improved cutting efficiencies. The unique "stay sharp" crystalline structure of the ceramic grain continually generates fresh cutting edges on the surface of the workpiece, ensuring an exceptionally fast and sustained cut. The fast and uniform cutting action helps to increase productivity and throughput. Additionally, the grain can withstand medium to high pressure production environments, contributing to the abrasive's long service life. These wheels should not be used on tools without guards.
Learn more about 3M Metalworking Solutions
(PDF, 13 Mb).