3M™ Green Corps™ Type 27 Depressed Center Wheel is a grinding wheel designed for heavy stock removal on most materials, including ferrous metals, stainless steels, alloy steels and cast iron.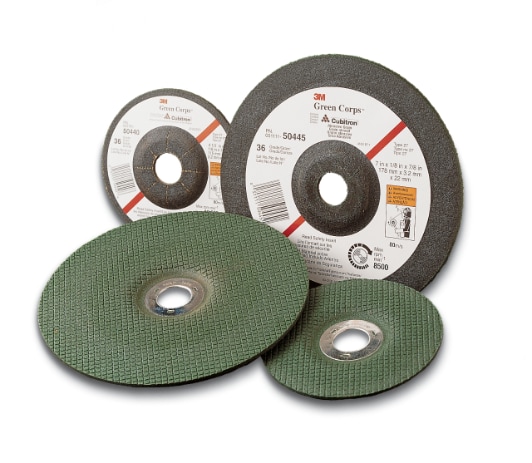 Designed for your toughest grinding and cutting applications, 3M™ Grinding and Cut-Off Wheels are fast cutting and long lasting.
Get up and Grind
3M™ Green Corps™ Type 27 Depressed Center Wheel is a heavy-duty wheel designed to perform at the beginning of a project; as a grinding wheel, it's often the first step in a sequence. Use this wheel for rough grinding applications like beveling, slag removal, weld grinding and edge work on a variety of metals.
3M™ Ceramic Abrasive Grain Helps with Fast Cut and Long Life
Abrasives made with our 3M™ Ceramic Abrasive Grain have outstanding durability, cut exceptionally fast and have a long service life. This grain is a proprietary ceramic mineral formed using a process to enhance toughness and hardness of the grain. It is chemically engineered with a unique "stay sharp" crystalline structure, which continually reveals fresh cutting edges on the surface of the disc ensuring extended high performance and real productivity benefits.
Type 27 Wheels and Tips for Optimal Use
Type 27 grinding wheels should be used with an approved grinding wheel guard. It's important the disc not extend beyond the lip of the guard, because the guard helps prevent debris from flying and injuring operators. The depressed center on Type 27 wheels enable flanges or metal attachment systems to recess within the wheel. When depressed center wheels attach to the tool, these attachment systems will not gouge the substrate or inhibit performance.
A grinding wheel must be run on a right angle grinder with a wheel guard that is designed specifically for the size and type of wheel used. The grinding wheel must have a listed maximum operating speed greater than or equal to the maximum listed speed of the grinder used.
Altogether, our 3M™ Green Corps™ Type 27 Depressed Center Wheel is a durable wheel designed to tackle some of your most aggressive grinding applications.