Flaps provide coverage on contoured or radiused surfaces
Coated abrasive flaps provide aggressive stock removal, blending, finishing and cleaning
Produces a straight line finish
Steel mandrel reduces chatter and operator fatigue
Aluminum oxide cuts quickly and suits ferrous and non-ferrous materials
Available in a broad range of sizes and grades to suit almost any part
The Standard Abrasives™ Aluminum Oxide Flap Wheel works well on inside and outside diameters of metal workpieces for high stock removal and aggressive blending, finishing and cleaning, and leaves a straight line finish. Choose from a wide range of diameters with different attachment styles to achieve consistent coverage on many different contours and shapes.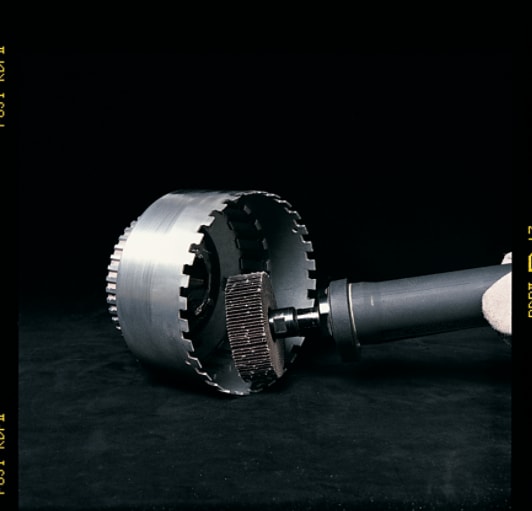 Best for applications requiring high stock removal and aggressive blending, finishing and cleaning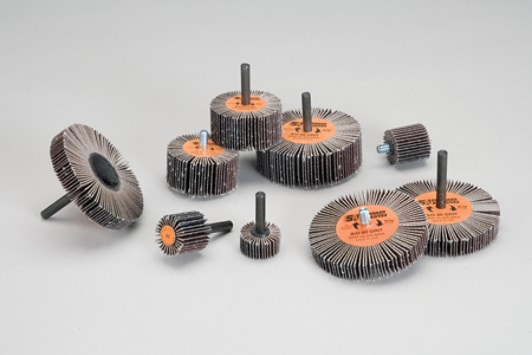 Permanently affixed 1/4" or 1/4-20 threaded steel shank on small wheels makes changing wheels faster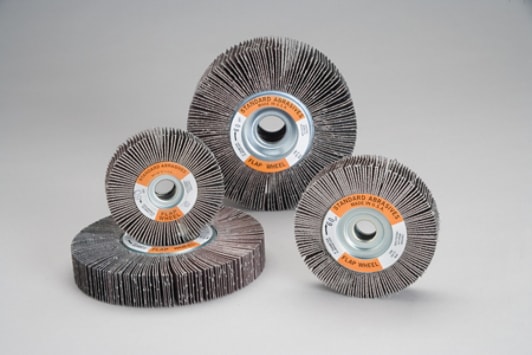 Larger wheels contain more flaps per wheel for faster cutting, increased productivity and longer life
Flaps Offer Aggressive Cut on Radiused and Contoured Parts
A flap wheel comes in handy when you're faced with the challenge of cleaning up burrs and parting lines on radiused or specially shaped parts where coated discs are not conformable enough or do not have the necessary reach. We offer the Standard Abrasives™ (PDF, 2.94 Mb) Aluminum Oxide Flap Wheel in smaller diameters for attachment to hand-held tools, and larger diameters for off-hand applications. A broad selection of grades is available to deburr edges, remove flash and parting lines, blend machine marks, apply a linear scratch pattern, or provide light blending, cleaning, or polishing.

Compared with non-woven products, flap wheels offer a more aggressive cut for cleaning or finishing. If a silicon carbide product is preferred for finishing applications, consider our Standard Abrasives™ Silicon Carbide Flap Wheel, available in 1-3" diameters (sold separately). When a job requires even more flexibility for improved finishing, or to reduce dust, we suggest a Standard Abrasives™ Flexible Flap Wheel (sold separately), which has flaps with increased flexibility and a slight radius to the flaps.

Some tools may require an additional reducer bushing or adapter for wheel attachment.

Small Wheels Access Inner Radiuses and Maintain Maximum Control
Our flap wheels with smaller diameters provide access to smaller and harder-to-access inner radiuses or contours on irregular parts. They are especially useful for cleaning or deburring the insides of tubing. For these smaller areas, flap wheels provide a softer touch than rolls or bands, which are suitable when more aggressive material removal is required.

Our smaller wheels are 1-3" in diameter have a 1/4" steel mandrel or a 1/4"-20 threaded steel shank to enable fast yet secure product change outs. In each case the steel attachment runs the full width of the wheel center, reducing chatter in the rotation. As a result, you get a smoother finish and the operator maintains greater control of the tool with less pressure and increasing productivity.

Large Wheels Supply Broader Coverage
For larger hand tools or off-hand applications, we provide flap wheels in diameters from 3-1/2" to 8" with 1" or 2" widths. These sizes have a 5/8" or 1" center hole compatible with larger tool arbors. The larger wheels contain more flaps per wheel for faster cutting, increased productivity and longer life.

Durable Wheel, Fast Cut
Aluminum oxide is a popular choice among industrial professionals because of its versatility on different surfaces, fast cut-rate and long life. It is a tough, durable abrasive that self-fractures to expose fresh cutting edges in use, whereas traditional abrasives such as garnet quickly wear down with use. Aluminum oxide mineral is suitable for a wide variety of materials including ferrous and non-ferrous metals.

Quality Standard Abrasives™ Products for Industrial Applications
The Standard Abrasives brand has supplied quality abrasives to the metalworking industry for over 50 years. Customers rely on our broad offering of high performance products including coated, bonded, and non-woven abrasive lines.