The 3M™ Roloc™ Disc Pack 985S includes various Roloc™ products, including 2" and 3" surface conditioning and light grinding and blending discs, as well as disc pads and a shank. This introductory pack provides an easy and economical way to evaluate the right product, size and grade for your application.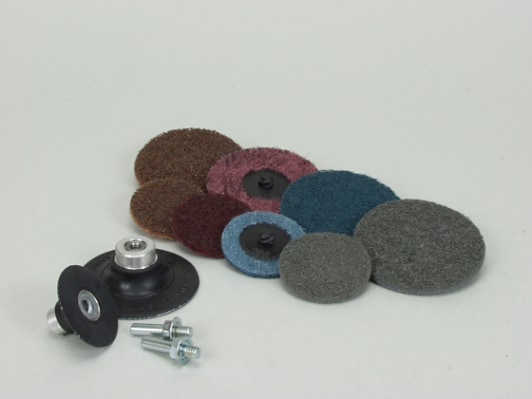 Contains a variety of discs to help you take the guesswork out of selecting the right abrasive
Sample Packs: A Good Approach to Trial and Error
Perfecting abrasive processes is, more often than not, a matter of trial and error. Mineral, backing, grade, attachment type — all these factors play a role in achieving the desired outcome. So, how do you know which combination is right for your project?
3M™ Roloc™ Disc Pack 985S contains a variety of discs to help you take the guesswork out of selecting the right abrasive. By utilizing all discs in this pack, you can compare and judge results at the same time. The discs in this pack, including SC Surface Conditioning Discs and Light Grinding and Blending Discs, are great for light stock removal and metal surface refinement, from paint prep to weld removal to final finishing. Here's why.
Discs for Polishing and Finishing
Scotch-Brite™ Roloc™ SC Surface Conditioning Discs have non-woven nylon fibers that run cool and resist loading while the abrasive mineral provides a high cut-rate for consistent finishing. The open-web material is designed to conform to irregular or contoured surfaces. The surface conditioning discs come in a variety of grades and sizes. Each disc is also color-coded to identify its grade, making it easy to grab the grade required for different applications.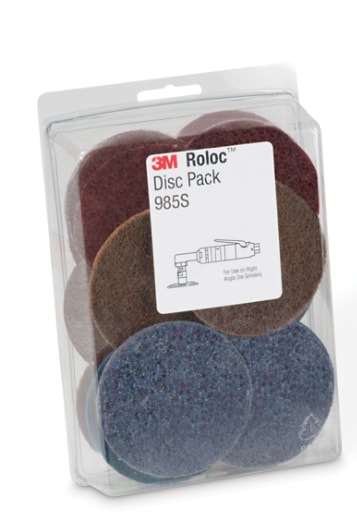 Discs for Light Grinding and Blending
Scotch-Brite™ Roloc™ Light Grinding and Blending (LGB) Discs are made with a ceramic abrasive grain blend to achieve a high cut-rate for optimal weld grinding and blending in mild-steel applications. They help blend and refine steel surfaces, as well as prep parts for paint. 3M™ ceramic abrasive grain blend is designed using a proprietary process to enhance toughness and hardness of the grain. It's engineered to fracture frequently and enhance cut-rate and durability. Like the Surface Conditioning Discs, the LGB Discs in this pack come in different grades and sizes.
Roloc™ System Enables Swift and Easy Tool Attachment
We included Roloc™ disc pads in this kit, sized to match the diameters of the discs, so tool attachment would be swift and easy. The kit contains a 1/4" diameter shank, which allows convenient attachment to tools with a 1/4" collet chuck. All discs in this pack have a 3M™ Roloc™ TR attachment, or a plastic threaded button that quickly screws onto a Roloc™ TR disc pad with a simple twist-off, twist-on motion. The Roloc™ attachment system enables operators to conveniently change discs fast during multi-step processes.
The versatile assortment of discs in this pack — all equipped with a Roloc™ attachment — make 3M™ Roloc™ Disc Pack 985S a good choice for operators who want to sample and test different discs. It presents a convenient and economical means for finding the right disc for you.
3M™ Industrial Products for Metalworking Catalog.
(PDF, 12.94 Mb)