3M™ Stikit™ Gold Film Disc 255L features aluminum oxide abrasive grain on a film backing for a fast cut-rate and uniform, close-tolerance finish on wood, paint prep and defect repair applications. The flexible film backing provides a consistent finish and greater tear-resistance than a comparable paper product, making it well-suited for a high-production environment.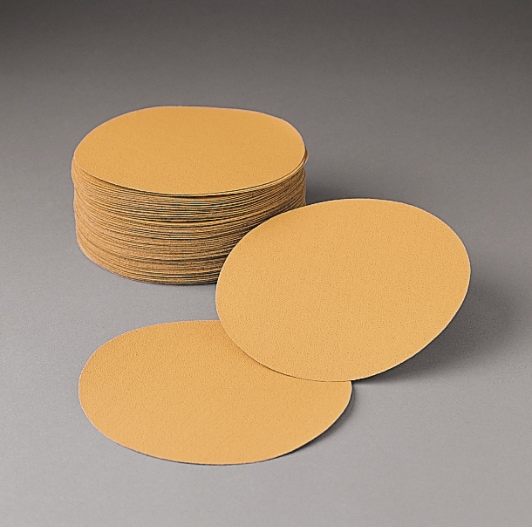 Aluminum oxide on a flexible, tear resistant film backing
Our 3M™ Stikit™ pressure sensitive adhesive backing provides ease of attachment and a clean, residue-free removal. The open coat feature provides a more aggressive cut than a comparable closed coat abrasive of the same grade, and its load-resistant coating reduces clogging, making this a good choice for woodworking and other applications where loading hinders performance. 3M™ Stikit™ Gold Film Disc 255L comes in a range of grades for fine sanding and finishing, and is resin-bonded for reliable performance under high heat and pressure.
Aluminum Oxide Abrasive Offers a Fast Cut, Long Life and Professional Performance
This abrasive uses aluminum oxide, which is a popular choice among industrial professionals because of its fast cut-rate and long life. Due to its fast cut-rate, hardness and strength, it is widely used in grinding applications in addition to sanding and finishing applications. Aluminum oxide is suitable for a wide variety of materials in both woodworking and metalworking, including ferrous alloys.
Open Coat Construction Prevents Dust and Debris from Clogging the Surface
Coated abrasives cut better and last longer when dust isn't clogging the cutting surface of the abrasives. Open coat construction means the abrasive grains are placed with space between them to help evacuate sanding dust and other debris to avoid clogging the cutting edge of the grains. The load-resistant coating also allows the product to continue cutting even when sanding softwoods, paints and other materials that would, otherwise, clog and hinder sanding ability. Additionally, the open coat feature provides a more aggressive cut than a comparable closed coat abrasive of the same grade. All of this adds up to increased productivity and reduced material consumption.
3M™ Stikit™ Backing Allows for Quick Application and Easy Removal
These high-quality, coated abrasive products come ready to use with a pressure sensitive adhesive coating on the backside so attaching to your disc pad is simple. And because the adhesive is pressure sensitive, the disc can be peeled off of the disc pad just as easily, leaving a clean surface for your next disc.
See More 3M Industrial Products for Woodworking.
(PDF, 20.55 Mb)