Moderately aggressive material offers great versatility and may be used for a variety of light-duty industrial applications, including light oxidation removal, blending of minor surface imperfections, surface cleaning prior to coatings, removal of small burrs, and basic equipment cleanup
Designed for less aggressive use compared with HP material in the Standard Abrasives™ Buff and Blend line
Hook and loop style attachment for random orbital sanding systems
Multi-purpose abrasive discs work well on most metals
Tough, pliable nylon web cleans and deburrs while leaving a professional finish
Open web is load resistant, limiting buildup of debris that can clog the abrasive
Available in medium (MED) and very fine (VFN) grade aluminum oxide mineral
Maroon
A good starting point for many different light-duty applications, our Standard Abrasives™ Buff and Blend Hook and Loop GP Disc is a versatile non-woven abrasive disc designed to lightly blend, clean, deburr and finish a variety of metals. We added a hook and loop style backing for use with a hook and loop holder pad (sold separately) on a random orbital sander.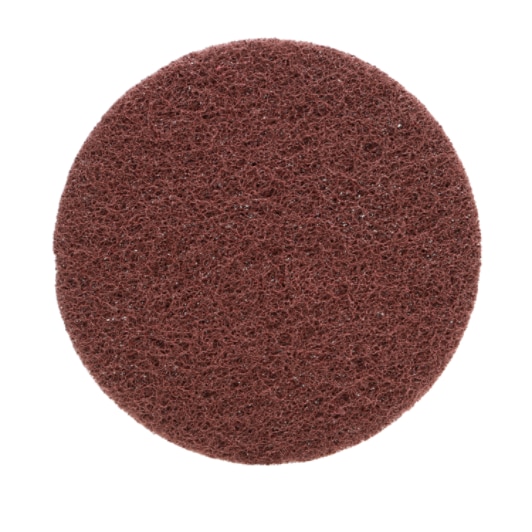 Tough, resin-reinforced nylon fiber with abrasive grain provides a high rate of cut while producing consistent finishes
Moderately Aggressive for Lighter-Weight Applications
Our Standard Abrasives™ Buff and Blend Hook and Loop GP Disc is a great multi-purpose product for general-duty industrial applications. Among the four Standard Abrasives™ Buff and Blend materials, the GP material is the least aggressive and most suitable for light-weight applications. Use it to remove light oxidation, blend minor surface imperfections, clean surfaces prior to coatings, remove small burrs, and perform basic equipment cleanup.
Versatile and multi-purpose, Buff and Blend GP products work well on a variety of substrates, including ferrous and non-ferrous metals, aluminum, high nickel/chrome alloys and stainless steel. Non-woven construction makes this disc spongy and responsive so that it conforms to workpiece contours or irregularities.
When the job requires additional toughness for higher-pressure applications, we recommend using a Standard Abrasives™ Buff and Blend HP or HS Disc.
Using a Hook and Loop GP Disc
Hook and loop discs mount to a hook and loop style holder pad that is the same diameter as the disc. The holder pad (available separately) provides convenient attachment to a random orbital sander. For use with other tools, Buff and Blend discs are also available with quick change and center hole attachments.
The Many Benefits of Standard Abrasives™ Non-Woven Products
Standard Abrasives™ Buff and Blend non-woven products offer many benefits. Varying Buff and Blend materials help distinguish Buff and Blend products from each other, but all Buff and Blend products have an open web. The open web combines abrasive mineral and non-woven nylon fibers with a resin-reinforced bond. The resin bond securely anchors mineral to the fibers, making for a strong, durable abrasive.
Gaps between fibers allow swarf to escape, so the abrasive does not get clogged with debris. Minimizing swarf and debris prolongs abrasive service life and keeps minerals cutting sharper for longer. Nylon fibers won't splinter during grinding, offering a good alternative to steel wool. Moreover, as the fibers break down and fresh mineral is exposed, it reduces the likelihood of the disc smearing the surface. Standard Abrasives™ Buff and Blend products deliver a consistent cut and finish — part after part.