The Standard Abrasives™ Silicon Carbide Slotted Cloth Disc compresses when entering a hole or cylinder to provide full contact with inside diameters. Typically used in push applications, it is useful for light deburring, blending, cleaning, polishing, and chamfering applications. It features a threaded eyelet arbor hole for mandrel attachment.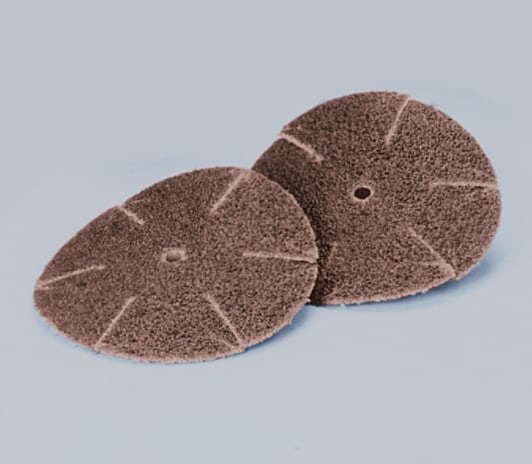 Full Contact with Internal Diameters
When you need a coated abrasive product with a lighter touch than a cross pad, our Standard Abrasives™ Silicon Carbide Slotted Cloth Disc is a good option and provides full coverage. While cross pads are very effective for more aggressive application in coarse grits, the slotted disc works well for less aggressive follow-up steps. The slotted construction makes the disc flexible so that the operator can push it into a hole or tube and achieve full contact with internal diameters. For push-pull applications, we recommend our Standard Abrasives™ Overlap Disc.
Super Sharp Silicon Carbide Leaves a Fine Finish
Silicon Carbide is a very sharp mineral most commonly used for low-pressure applications such as paint prep and the final stages of whitewood sanding. It is also an excellent choice for stainless steel applications. While it may have a shorter life than aluminum oxide, it produces a finer finish and should be used when a fine scratch pattern is desired.
Running a Slotted Cloth Disc
For the convenience of tool-free disc changes, our slotted discs have either a threaded eyelet arbor hole that screws onto a mandrel and is secured by hand with an attachment bolt, or a built-in 8-32 threaded shaft. A shorter mandrel allows for a steadier application, while a mandrel with extended reach allows access deeper into pipe interiors. Compatible threaded Standard Abrasives™ Mandrels are available separately with thread sizes of 8-32, 3-48, and 14-20. An extended version is available with 8-32 threads.
Quality Standard Abrasives™ Solutions for Industrial Applications
The Standard Abrasives brand has supplied quality abrasives to the metalworking industry for over 50 years. Customers rely on our broad offering of high performance products including coated, bonded, and non-woven abrasive lines.