3M™ Hookit™ Clean Sanding Disc 752I is one of 3M's best discs for heavy-duty sanding on composites and metal. An open coat ceramic and aluminum oxide blend is engineered to resist edge shelling during rugged use. The multi-hole disc design improves dust extraction when used with 3M™ Clean Sanding System tools. It is constructed on an E-weight paper backing with an anti-loading stearate coating.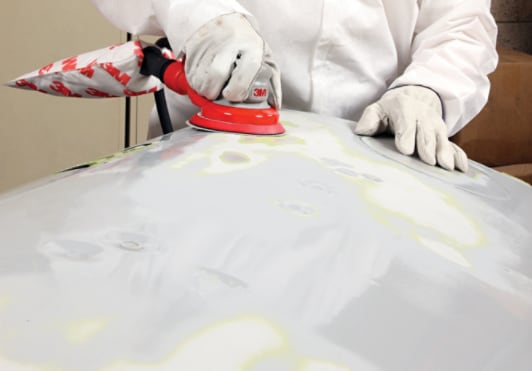 3M™ Random Orbital Sander - Elite Series 28511 in action
Sharp-Cutting, Shelling-Resistant Abrasive Grain
Used with a vacuum system, our 3M™Hookit™ Clean Sanding Disc 752I features our 3M™ Clean Sanding technology to evacuate dust, increase cutting performance and dramatically increase disc life.
For dry-sanding stock removal on composites and blending metal, this disc is designed with a blend of 3M™ Ceramic Grain and aluminum oxide mineral. Its unique "stay sharp" crystalline structure continually reveals fresh cutting edges during use for an exceptionally fast and sustained cut. Engineered to increase the surface area of the grain and increase the surface bond, it resists shelling even during heavy stock removal.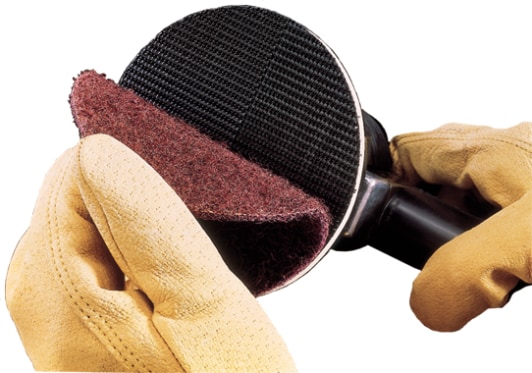 Hookit attachment system provides fast disc change-out for multi-step finishing processes
Our Hookit Attachment System
Our 3M™ Hookit™ abrasive discs run cooler than pressure sensitive discs and conveniently attach to a hook-and-loop backup disc pad (sold separately). They can be removed cleanly and easily and re-used for the extent of the abrasive life. 3M™ Hookit™ discs work well in work spaces where adhesive-backed discs may become contaminated by dust or dirt.
Cut Dust
Discs cut and last longer when dust isn't loading the cutting surface of the abrasives. 3M™ Clean Sanding technology reduces dust, keeping it away from the work surface, the abrasive and the air.Optimized with a self-generated vacuum sanding tool fitted with a Clean Sanding filter bag (sold separately), Clean Sanding products allow the vacuum to suction dust from the air and off of the workpiece. This reduces loading of the disc and adds life to the abrasive. Additionally, reducing dust in the air improves working conditions. You can also pair Clean Sanding abrasives with Clean Sanding disc pads for use on a central-vacuum-ready sander.
Our multi-hole disc design allows a vacuum accessory to suck dust away from the work surface and reduce air-borne dust. This design doesn't require alignment of holes with the disc pad so switching the discs is fast, easy and convenient.
Application
Product
Mineral Type
Backing
Weight
Load-Resistant
Gel Coat
Composites
Solid Surface
E-Coat
Primer/Paint Prep
Wood
Metal
In-Stock Products
216U
Aluminum Oxide
Paper
A
X
236U
Aluminum Oxide
Paper
C
X
360L
Aluminum Oxide
Film
3 mil
375L
Aluminum Oxide
Film
3 mil
X
732U
Ceramic and Aluminum Oxide Blend
Paper
C
735U
Ceramic and Aluminum Oxide Blend
Paper
C
X
752I
Ceramic and Aluminum Oxide Blend
Paper
E
775L
Ceramic and Aluminum Oxide Blend
Film
3 mil
900DZ
Ceramic
Cloth
J
3M Delivers
The broad footprint of 3M technologies shows in the many systems designed to work in concert to deliver superior performance, more cost-effective solutions and a process optimized to make work safer and simpler for operators who use our tools.