3M™ Finesse-it™ Wetordry™ Scallop Abrasive Disc 401Q is small but mighty: its overall diameter measures 1-3/8 inches. The small size lends itself to buffing, polishing and finishing on small surfaces – those areas where a tiny ding, scratch or imperfection can make all the difference.
Scalloped surface and light A-weight backing help reduce gouging during wet or dry sanding
The Science Behind Disc 401Q
We engineer our 3M™ Finesse-it™ Wetordry™ Scallop Abrasive Disc 401Q with silicon carbide mineral, which is adhered to an A-weight paper backing. A synthetic mineral, silicon carbide cuts sharp but leaves a bright finish. Its ability to finish fine is one of the primary reasons we chose this mineral for disc 401Q. The A-weight paper backing is the lightest among paper backings. This backing is desirable, because — given its lightness and malleability — it will respond well to the surface without significantly gouging or marring.
Additionally, disc 401Q has a pressure-sensitive adhesive backing, which means it adheres to a backup pad (sold separately) with slight manual pressure. Removing the disc is as simple as securing it — simply peel it away from the backup pad. Altogether, this attachment system expedites tool connections. It makes disc changeouts fast and easy, so you can focus on what matters most: your work.
The scalloped edge on disc 401Q adds a level of surface forgiveness that operators may otherwise be unable to attain with standard round discs. Because the edges are scalloped, if the disc accidentally tilts or abrades with its edge, it will be more forgiving than if it were a rounded edge. In this way, the risk of gouging or over cutting is reduced.
Keeping up Appearances
Sanding an automotive surface can be challenging; you want to repair or enhance the body's appearance without causing unnecessary damage. There are some steps you can take to maximize abrasive service life and approach the substrate with finesse.
For example, we recommend using water as a lubricant during sanding and spraying the abrasive disc with water before and after sanding each spot; it helps keep the disc clean and extend service life. 3M™ Wetordry™ products are backed with a proprietary durable waterproof paper backing that supports both wet and dry applications. Lighter weight than cloth, and smooth rather than textured, paper backing is preferable for lighter applications such as finishing and paint prep. At the same time, many such applications produce a significant amount of dust, clogging the abrasive points and creating an inferior work environment. These effects can be minimized by sanding with water to rinse dust away from the workpiece and the abrasive surface.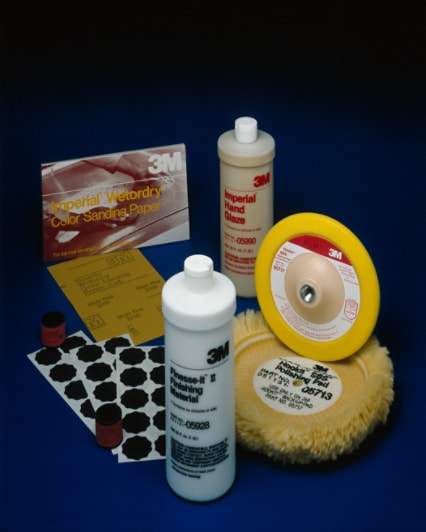 Try sanding in a small circular motion with the pad flat against the surface and avoid over-sanding. Use extra caution to prevent over sanding when machine sanding near the edges of panels, which are less flexible and typically have thinner coatings. If preferred, these areas can even be hand sanded. In fact, our disc 401Q works well with
3M™ Finesse-it™ Hand Sanding Pad
(sold separately).
3M™ Finesse-it™ Products
3M™ Finesse-it™ products are specially-engineered abrasives, compounds, polishes, and buffing pads to be used on OEM and baked refinish paints to remove defects, sand scratches, or swirl marks on a variety of painted surfaces. 3M™ Finesse-it™ products are an integral part of a 3M recommended buffing system for repairing surface defects to clear coats, lacquered wood, solid surfaces, gelcoat, powder coat, industrial paint, acrylic, and glass. Altogether, 3M™ Finesse-it™ Wetordry™ Scallop Abrasive Disc 401Q is great when you want to achieve a final gleam and polish.