Scotch Brite Scuffing Disc offers a quick and easy solution for machine scuffing automotive finishes before painting
Versatile selection of grades and minerals to ensure operators find the right disc for their specific application
Open web is load resistant, preventing abrasive from getting clogged with debris and prolonging service life
Nylon fibers in open web won't splinter or rust, providing a great alternative to steel wool abrasives
Nylon fibers are flexible and respond to surface irregularities without compromising part geometry
Hookit™ backing for easy attachment to hook-and-loop backup disc pad (sold separately) and easy fastening to a random orbital sander
Our Scotch-Brite™ Scuffing Disc delivers a fast, consistent scuff for everyday surface preparation. It is ideal for cleaning parts and scuffing prior to staining and painting. The sharp-cutting mineral and load-resistant web renders this disc a versatile tool for any workshop.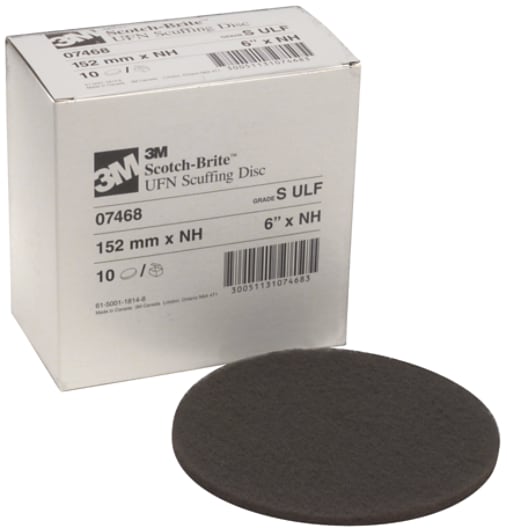 Scotch-Brite™ Scuffing Disc 07468, 6 in x NH S ULF
Available in a Variety of Grades
Our Scotch-Brite™ Scuffing Disc comes in variety of minerals and grades and is color-coded by grade. These colors are intended to help operators who may use more than one disc reduce the risk for selecting the wrong grade and sanding in error. A very fine (VFN) grade scuffing disc with aluminum oxide mineral performs similar to steel wool grade 0. It is highly conformable with a high cut rate and is great for applications like paint prep on wood finishes. An ultra fine (ULF) grade with silicon carbide performs similar to steel wool grade 00. It is also highly conformable and provides exceptional finishes on wood and metal.
The Many Benefits of Open Web Abrasives
Nonwoven technology makes our Scotch-Brite™ industrial abrasives unique. A combination of fiber strands, resin, and abrasive mineral forms a thick, open web. The spring-like nature of the fibers responds to contours and effectively removes unwanted burrs, soils, and contaminants while maintaining the geometry of the workpiece, which in turn reduces rework and boosts productivity. Gaps in the web allow swarf to escape, so debris does not clog the mineral. Fibers in the web continually break down with use to reveal fresh mineral for exceptional consistency, superior cut performance, and extremely long service life. Scotch-Brite product may enhance productivity while reducing the need for cleaning chemicals and wire brushes. From aesthetic finishing to weld blending, deburring, and more, Scotch-Brite abrasives work fast and deliver consistent results, part after part.