3M™ Trizact™ Film Disc 568XA utilizes microreplicated cerium oxide uniformly distributed across a 3-mil film backing to create a high gloss on glass, Corian and solid surfaces.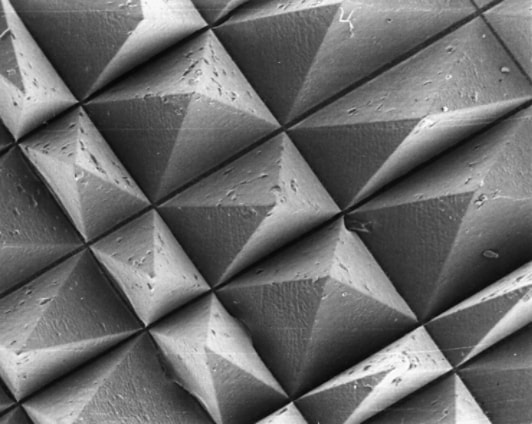 3M™ Trizact™ Abrasive surface, 50x magnification
Finish and Repair Sensitive Surfaces
Sensitive surfaces, like glass, acrylic and Corian, require an abrasive that cuts aggressively without scratching and without quickly dulling. 3M™ Trizact™ Film Disc 568XA fits the bill. Designed with Trizact™ microreplicated cerium oxide, 568XA ensures a fast, consistent cut rate that easily removes defects such as scuffs, scratches and acid marks on table glass, airplane windscreens and windows, architectural glass and other solid surfaces. The film backing is water resistant and requires little water for touch-up, minimizing mess and processing steps.

About Cerium Oxide
The average grain size of the particle is measured in nanometers in raw form, thus making it one of the most effective abrasives for final polishing steps on solid surfaces. It is heat resistant and effective as a polishing agent for glass mirrors, plate glass, crystal, ophthalmic lenses, precision optics, and precious and semiprecious stone.

Trizact Abrasives
3M™ Trizact™ abrasives are engineered using 3M microreplication — the creation of microscopic 3-dimensional structures applied to a backing in a uniform and precise pattern. These pyramid-like structures contain multiple layers of mineral. When they break down during use, fresh cutting mineral continues to be exposed so results are consistent throughout the life of the abrasive.

Ongoing sharp cutting action contributes to higher throughput, more uniform results and greater productivity.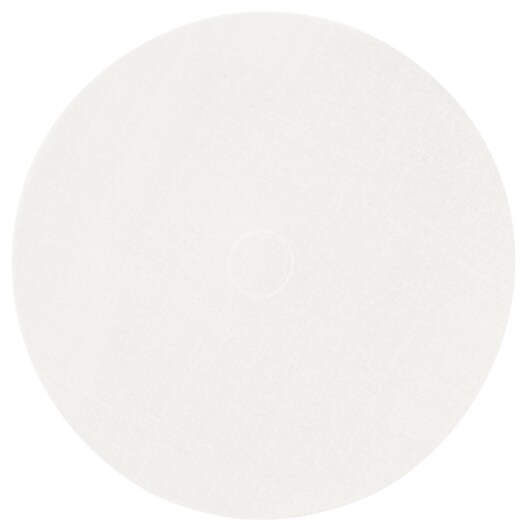 For glass defect repair, polyester and acrylic solid surface finishing
Polishes and Leaves Glass Crystal Clear
Use Trizact™ Film Disc 568XA for a final polish. First, wet the surface slightly with a small amount of water. As you polish, the mineral "pyramids" will break down to form a slurry-like solution. The polishing action that occurs will remove scratches left by previous leveling steps.

For acrylic-filled solid surfaces, use 568XA damp as a final step to attain a high-gloss finish.

Remove silica coatings (anti-glare and static) and fluoric acid spots in a single step with 568XA.

Learn more about 3M™ Trizact™ Film (PDF, 998.69 Kb)