3M™ Roloc™ Bristle Disc Kit 982BS is an introductory pack filled with Roloc Bristle Discs and an accompanying holder pad, which gives users an economical solution for trying multiple discs and finding the right grade for their specific application.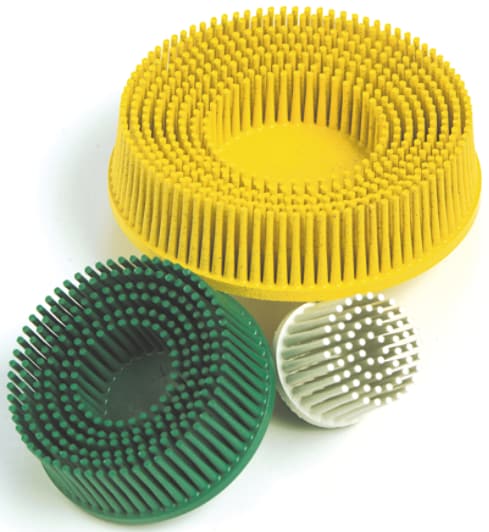 Bristle spacing is ideal for coating removal and other high-loading substances
Easily Remove Rust, Welds and Contaminants
The bristle discs included in 3M™ Roloc™ Bristle Disc Kit 982BS are ideal for more specialized jobs like removing paint, stains, adhesives, weld burn, rust and other contaminants from the workpiece. Pairing them with 3M™ Disc Sanders for a right angle system can help make your tough jobs easy.
Our fast-running discs combines superior cutting action with the 3M™ Roloc™ quick change attachment system to help you efficiently clean, strip, deburr, blend, finish, polish, scratch, and remove rust and coatings without damaging the geometry of the base material. Under normal use, bristles remain safely in place and can achieve the desired finish using light pressure. Bristle discs works well on steel, aluminum and a variety of other metals, in general maintenance, as well as automotive and engine rebuilding applications.
Using proprietary ceramic abrasive grain blended with aluminum oxide and molded, flexible bristles, these bristle discs provide large surface contact and retain abrasive properties throughout the life of the disc.
Learn more about 3M™ power tools, abrasives and accessories
(PDF, 18.5 Mb)
3M™ Ceramic Abrasive Grain Cuts Fast and Handles Heat
3M™ Ceramic Abrasive Grain is a ceramic mineral manufactured using our proprietary process to enhance toughness and hardness of the grain. For increased performance, these bristle discs feature aluminum oxide blended with ceramic abrasive grain for one of the hardest, longest-lasting minerals available. Perfect for moderate to heavy stock removal, ceramic abrasives are engineered to cut fast and handle intense heat and stress applications. 3M™ Ceramic Abrasive Grain surpasses aluminum oxide abrasives in cut-rate, durability, and makes an excellent choice for industrial grinding and finishing applications.
A Versatile Pack
3M™ Roloc™ Bristle Disc Kit 982BS contains 2" bristle discs in three grades: 50, 80, 120. Finer grades are recommended for light-duty applications, like finishing and polishing, and coarser grades are recommended for heavy-duty applications like grinding and deburring. A 2" Roloc TR Disc Pad Holder is also included in the pack. The disc pad optimizes performance of the bristle disc by providing a secure attachment for all applications. Plus, it saves time by eliminating the need to align edges of the disc with the disc pad — the screw aligns the disc, making disc changes quick and easy. The versatile system works with drills, disc sanders, right angle grinders and rotary sanders.
Find accessories for abrasive products
(PDF, 4.3 Mb)
Our 3M™ Roloc™ Bristle Disc Kit 982BS, filled with a range of discs and the accompanying disc pad, are great for users who want to try a variety of grades and uncover the right disc for their specific applications.