3M™ Stikit™ Gold Paper Disc 216U features an open coat aluminum oxide abrasive and a load-resistant coating on a flexible, A-weight paper backing. Available in a wide range of sizes, grits, and grades, this disc is great for many applications.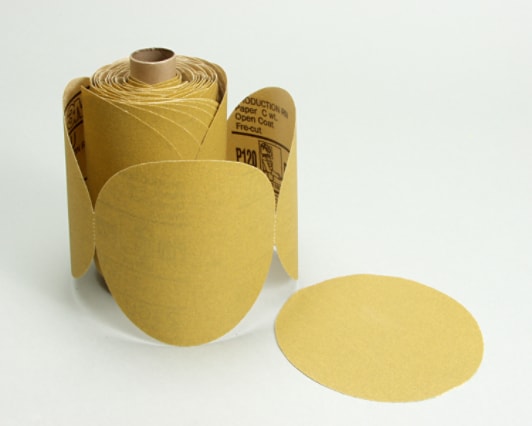 Load resistant coating
Resists Dust and Debris
In grades from 80 to 800, 3M™ Stikit™ Gold Paper Disc 216U is engineered for demanding applications that might make other discs entirely ineffective. Aluminum oxide mineral provides a fast cut, durability and performs well on many surfaces.
Sandpaper discs cut better and last longer when dust isn't loading the cutting surface of the abrasives. Loading occurs when material clogs the surface of the sanding paper and the abrasive points, which can quickly make the disc ineffective. Open coat construction means the abrasive grains are placed less densely so dust collects in the spaces between the grains and can more easily be evacuated, rather than clogging the cutting edge of the grains. A load-resistant coating also allows the disc to continue cutting even when sanding softwoods, paints, and other materials that would otherwise clog the disc and hinder sanding ability.
Flexes Around Curves, Reaches
A light and flexible A-weight paper backing flexes around curves and reaches into crevasses and corners. The flatter paper backing makes for a lighter scratch and a smoother finish than cloth, for instance. This handy disc can also be easily cut to fit a hand pad block, inline sanders, or finishing or power sanders.
The Speed and Ease of Stikit
Our 3M™ Stikit™ coated abrasive products come ready to use with a pressure sensitive adhesive coating on the backside so that attaching them to your disc pad is as simple as pressing on a sticker. And because the adhesive is pressure sensitive, the disc can be peeled off of the disc pad just as easily, leaving a clean surface for your next disc. A Stikit disc must be pressed onto a Stikit backup pad (also called a disc pad and sold separately) that is attached to a disc sander, random orbital sander, or stationary disc sander.
Paint Prep, Gelcoat, Aluminum and Carbon Steel
Paint Prep: Our 3M™ Stikit™ Gold Paper Disc 216U is a good choice for stock removal and finishing on plastic parts and primer.
Gelcoat: 3M™ Stikit™ Gold Paper Disc 216U is well-suited for stock removal, medium stock removal and finishing on gelcoat.
Gelcoat: Metal Fabrication Applications: Good for finishing on aluminum and carbon steel.
3M Science. Applied to Designing Tools to Enhance Quality and Productivity.
3M™ Gold Abrasives are the standard that industry has turned to for quality, performance and durability for over 25 years. Our Gold Abrasives are engineered with high quality minerals and resins to deliver longer-lasting abrasives that cut through a variety of surfaces - including paint, primer, fiberglass and metals. 3M Gold Abrasives produce uniform, consistent finishes. When job quality and productivity matter most, turn to the abrasives that industry has relied on year after year.
See More 3M Industrial Products for Woodworking
(PDF, 20.55 Mb)