Small disc sands and cleans around rivets
Layered construction enables access to tight angles
Non-woven fiber construction can take on tough surfaces without marring the workpiece
Spaces between non-woven fibers collect and funnel away debris to reduce loading
Open-web construction minimizes heat for effective use on steel and aluminum
Aluminum oxide is durable and cuts fast
Use together with a 3M™ Roloc™ Plus Holder (sold separately) for fast and easy attachment and removal
Our Scotch-Brite™ Rivet Cleaning Disc sands and cleans around rivets with high-speed efficiency and consistent results. This tough, tightly layered disc achieves a close fit against and between rivets and leaves behind a clean, consistent finish while maintaining the geometry of the workpiece.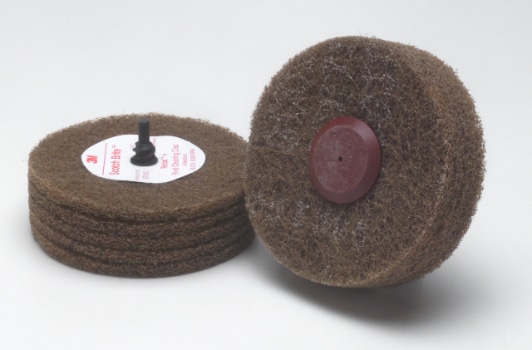 Add the Convenience of 3M™ Roloc™
Our 3M™ Roloc™ system provides a quick yet secure attachment even for heavy-duty applications, and the variety of available 3M Roloc products conveniently allows swapping from one application to the next in seconds.
The Scotch-Brite™ Advantage
Nonwoven technology makes our Scotch-Brite™ industrial abrasives unique. A combination of fiber strands, resin, and abrasive mineral forms a thick, open web. The spring-like nature of the fibers responds to contours and effectively removes unwanted burrs, soils and contaminants while maintaining the geometry of the workpiece. This in turn reduces rework and boosts productivity. Gaps in the web allow swarf to escape, limiting clogging of the abrasive. Fibers in the web continually break down with use to reveal fresh mineral for exceptional consistency, superior cut performance and extremely long service life. Scotch-Brite products not only enhance productivity, but may also increase operator safety by reducing the need for cleaning chemicals and pastes, and replacing wire brushes that can break off and cause injury. From aesthetic finishing to weld blending, deburring and more, Scotch-Brite abrasives work fast and deliver consistent results, part after part.