Added stiffness and reinforced fiber construction make this disc more durable than a Scotch-Brite™ Production Clean and Finish Disc
High cut-rate and robust durability tackle your most aggressive cleaning and finishing applications
Tough, non-woven construction conforms to contours
Non-woven 3D web structure provides long life and consistent finishes
Non-woven, open-web construction runs cool and resists loading to provide a consistent level of abrasive conditioning over the life of the disc
Our Scotch-Brite™ Premium Clean and Finish Disc features premium abrasive mineral and stiff construction for heavy-duty coating and paint removal, scratch blending, scuffing, finishing, and polishing. Stronger and denser than our Scotch-Brite™ Production Clean and Finish Disc, this tough, durable disc is ideal for use in an industrial setting.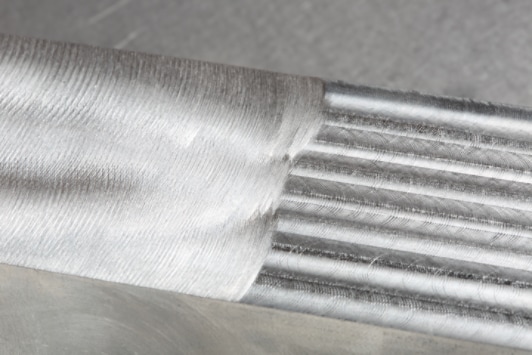 Achieve a paintable finish in fewer steps
Consistent Fine Finish
Our Scotch-Brite™ Premium Clean and Finish Disc is designed to help you achieve a superior finish on solid surfaces, painted panels, and other materials, and can be mounted on a straight shaft tool or run on a bench motor. The open-web construction conforms to irregular surfaces for a clean, consistent finish without undercutting or damaging the base material. It delivers high cut, long life and a fine finish, and is effective for conditioning aluminum, stainless steel, plastics, wood, and fiberglass.

Stiffer and More Resistant to Tearing
This open-web disc delivers all the great benefits you expect from Scotch-Brite™ products—it conforms to uneven surfaces and leaves an incredibly consistent finish without undercutting the workpiece—but is engineered with increased strength and stiffness to stand up to heavy-duty applications. Compared to our Scotch-Brite™ Production Clean and Finish Disc, this disc is denser and more resistant to tearing.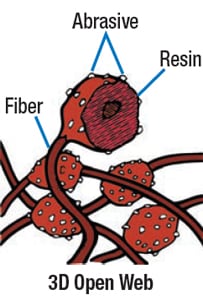 Non-woven material combined with abrasive grain is an ideal way to add a great finish or remove burrs without gouging or undercutting the workpiece
Excellent Cut, Superior Finish
Our Premium Clean and Finish Discs contain aluminum oxide or silicon carbide for the Medium grade option and aluminum oxide for the Very Fine grade. Aluminum oxide is a tough mineral with a fast cut-rate and prolonged life over natural abrasives such as emory, making it a popular choice among industrial professionals for many different applications. Silicon carbide is a synthetic mineral that is very sharp and commonly used for low-pressure applications such as paint prep. While it breaks down faster than aluminum oxide, it produces a superior finish.

The Scotch-Brite™ Advantage
Non-woven technology makes our Scotch-Brite™ abrasives unique. We intersperse abrasive mineral on synthetic fibers using resin — creating an open web construction. Spaces between the fibers permit excess material to escape, so the mineral does not get worn down by debris. It keeps the mineral cutting sharper longer, enhancing cut performance and increasing abrasive service life. The spring-like nature of the fibers works well on contours and responds to subtleties on the surface. Its responsive design effectively removes unwanted burrs, soils and contaminants without ruining the base material, so you get a consistent and uniform finish — part after part.