3M™ Paper Disc Roll 763U provides a super-fast cut rate with an engineered blend of aluminum oxide and 3M™ Ceramic Abrasive Grain. A resin bond helps to reduce heat and an extra heavy F-weight, flexible paper backing supports demanding applications.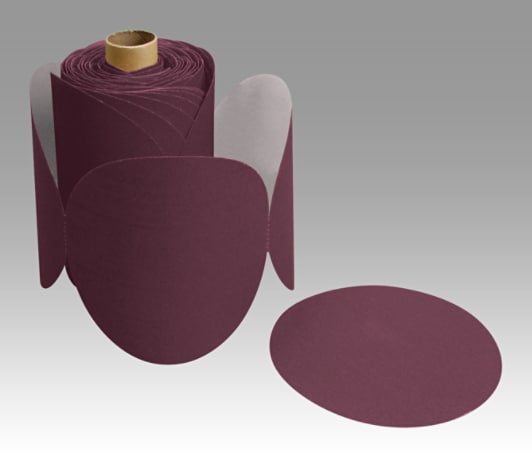 3M ceramic aluminum oxide blend abrasive grain on a heavy F wt. paper backing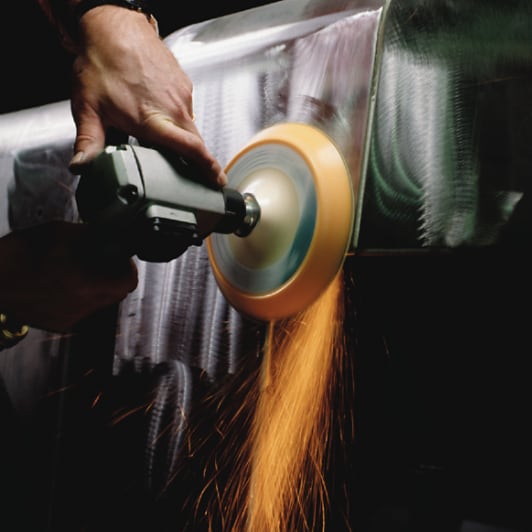 Great for white metal, paint stripping or D/A applications on metal
Toughness, Cut-Rate, and Flexibility
3M™ Paper Disc Roll 763U has the toughness, cut-rate, and flexibility required for aggressive paint prep and metal finishing applications. A mineral blend of aluminum oxide and 3M™ Ceramic Abrasive Grain results in an exceptionally hard and strong abrasive mineral that fractures at a controlled rate, constantly creating thousands of new cutting points as it wears. A heavy, F-weight paper backing stands up to heavy-duty sanding without tearing, dulling, loading or edge wear.
Perfect for moderate to heavy stock removal as well as finishing, ceramic abrasives are engineered to handle intense heat and stress applications. When combined, ceramic/aluminum oxide blends surpass aluminum oxide alone in cut-rate and durability and make an excellent choice for difficult grinding applications.
Dense Abrasive Mineral
Closed coat construction contributes to higher stock removal and longer life. It is great for final finishing and polishing on metal substrates, as well, because the dense concentration of mineral lays down a finer pattern.
Convenient, Economical Roll of Discs
Available in grades of 50, 60, 80, P100 and P120, 3M™ Paper Disc Roll 763U provides multiple adhesive-backed discs on a single roll. This makes them easy to remove one at a time, efficient to store and economical. The pressure sensitive adhesive coating on the backs is quick and simple to use — simply press the disc onto the backup pad and you're ready to go. They remove just as cleanly, leaving an uncontaminated surface for the next disc.
Mixed Ceramic Abrasive
3M™ Ceramic Abrasive Grain is a ceramic mineral designed using a proprietary process to enhance toughness and hardness of the grain. For this increased performance, this paper feature aluminum oxide blended with 3M ceramic grain for a harder, longer-lasting abrasive. Perfect for light to moderate stock removal, ceramic abrasives are engineered to cut fast and handle intense heat and stress applications.
Among 3M's Best Paper Discs for Heavy Duty Sanding
Among 3M's most popular products, 763U paper discs are among 3M's best abrasive discs for stock removal, blending and finishing carbon steel in paint prep applications. Use for blending and finishing file and scratch marks in white metal prior to e-coat application using 3M™ Random Orbital Sanders or 3M™ Disc Sander.