3M™ Trizact™ Finesse-it™ Film Disc 464LA was constructed with a unique surface topography that channels sanding debris away from the disc, reducing the chance of loading and extending the life of the disc. The 3M™ Trizact™ Finesse-it™ Film Disc 464LA is commonly used in transportation and automotive industries, removing imperfections and surface defects from painted substrates prior to buffing.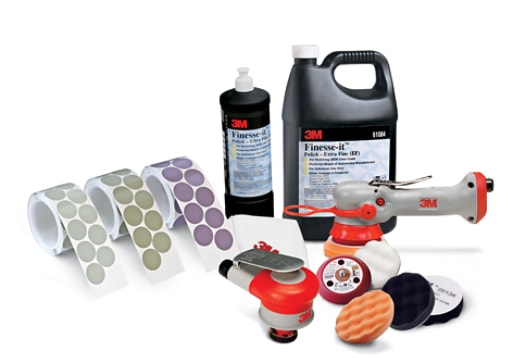 Ideal for paint and clear coat spot defect repair, as well as coating removal
Striking a Balance Between Softness and Strength
3M™ Trizact™ abrasives start sharp and stay sharp, resulting in more predictable finishes and improved, consistent quality. We engineered 3M™ Trizact™ Finesse-it™ Film Disc 464LA for paint and clear coat spot defect repair, paint prep, coating and corrosion removal and surface preparation for clear coats, topcoats and paint. 3M™ Trizact™ Finesse-it™ Film Disc 464LA strikes a balance between sensitivity and strength, delivering cuts sharp enough to remove imperfections but soft enough to leave the orange peel on paint.
Made with silicon carbide, the mineral on Disc 464LA is very hard and fractures easily, resulting in freshly exposed sharp edges that cut extra fast and produce a smooth, professional-looking finish. Silicon carbide abrasives are commonly used for low-pressure applications, and Disc 464LA comes in a variety of grades, so operators can choose the right grade for their specific project. This disc may be used with both orbital nib sanders and mini random orbital sanders.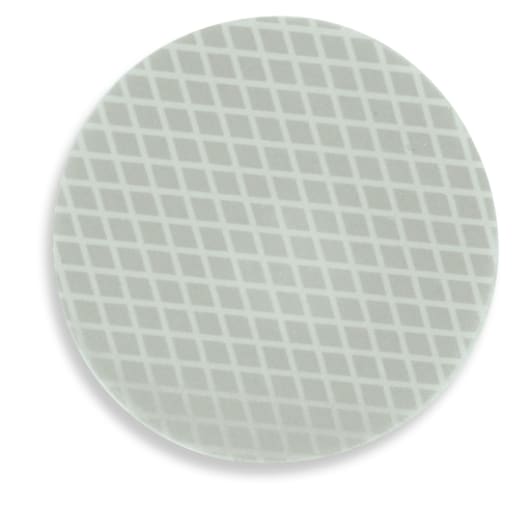 464LA's precise, microreplicated system of channels funnel sanding debris away from the disc
3M™ Science and the Power of Trizact™ Abrasives
3M™ Trizact™ abrasives revitalize light dimensioning and finishing work by reducing processing steps, increasing throughput and creating consistency. Big benefits are achieved through a patented 3M technology called microreplication. During microreplication, small three-dimensional structures resembling pyramids are adhered to a backing. These "pyramids" contain layers of mineral, and they begin to break down after repeated use, continually exposing fresh mineral.
The cycle of mineral renewal sustains the abrasive's sharpness. Ongoing sharp cutting action reduces the need to swap out the abrasive, contributing to higher throughput and increased productivity. Additionally, because the mineral is uniformly distributed over the abrasive surface, the workpiece receives fixed — rather than erratic — contact for a consistent cut. From medical implants to surgical tools to automotive transmission components, 3M™ Trizact™ abrasives are uniquely suited for projects with acute technical requirements — delivering a consistent finish part after part.