3M™ Trizact™ Stikit™ Cloth Disc 337DC provides fast scratch removal on automotive metal components and leaves a superior finish. Premium aluminum oxide macroreplicated grain on an X-weight backing combine to contribute to long product life.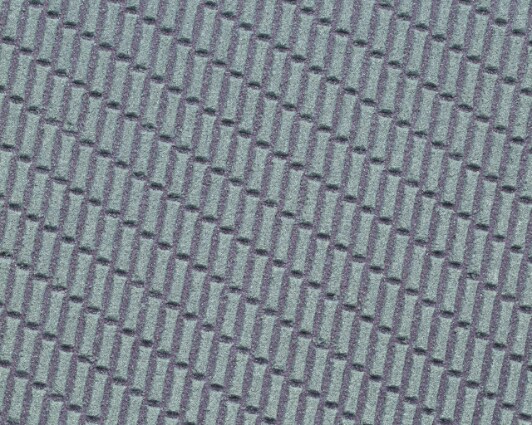 Macroreplicated abrasive pattern generates minimal heat, helps remove swarf
Perfecting the Body in White
Our 3M™ Trizact™ Stikit™ Cloth Disc 337DC works well for automotive white metal repair. It is ideal for
blending and finishing
(PDF, 1.4 Mb) minor defects and for use to remove scratch marks left behind by metal files or rotary tools. It provides a very fast scratch removal capability combined with a superior finish, leaving the surface ready for e-coat application.
This cloth disc is available in grades of A300 and 5-inch diameters, as well as make-to-order sizes.
3M™ Trizact™ Abrasive Structure
Macroreplication is the technology behind the geometrical bricks-and-channels abrasive structure of our 337DC products. These unique abrasive bricks contain up to four times as much mineral as conventional abrasives. As the mineral breaks down, fresh mineral is exposed.
The macroreplicated pattern of Trizact 337DC discs generates minimal heat. The open spaces between the abrasive bricks channels heat away and removes swarf. This means you can use these discs on substrates like galvanized panels and aluminum hoods.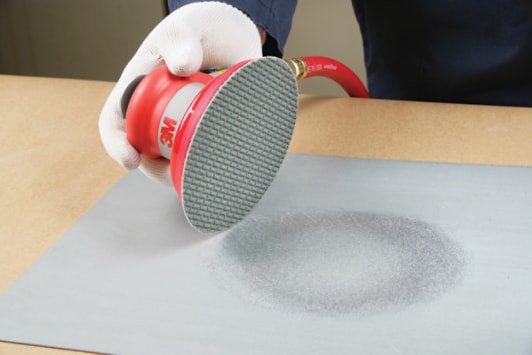 Stikit™ attachment makes disc changeouts fast and easy
Press On, Peel Off Pressure Sensitive Backing
Our 3M™ Stikit™ system abrasive products come ready to use with a pressure sensitive adhesive coating on the backside so that attaching them is as simple as pressing on a sticker. And because the adhesive is pressure sensitive, the sheet can be peeled off of the pad just as easily, leaving a clean surface for your next sheet.
Recommended Applications
Hand file scratch refinement
Rotary tool scratch refinement
Blending and finishing of minor defects
Effective on galvanized and aluminum parts