The 3M™ Hookit™ Paper Disc 763U combines a blend of ceramic and aluminum oxide abrasive grain and a heavy F-weight paper backing to make short work for tasks like defect repair on metals, prep for paint and orbital sanding. 3M™ Hookit™ attachment system makes tool attachment swift and simple.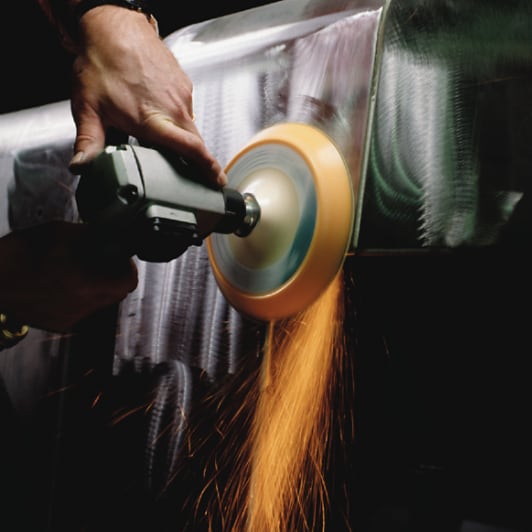 3M ceramic aluminum oxide blend abrasive grain on a heavy F wt. paper backing
Stay Cooler, Cut Faster, Last Longer
A blend of aluminum oxide and 3M™ Ceramic Abrasive Grain provides our 3M™ Hookit™ Paper Disc 763U with its fast cut and exceptional durability.
Perfect for moderate to heavy stock removal as well as finishing, ceramic abrasives are engineered to handle intense heat and stress applications. Ceramic/aluminum oxide blends surpass aluminum oxide alone in cut-rate and durability and make an excellent choice for difficult grinding applications. Closed coat construction contributes to higher stock removal and longer life. It is great for final finishing and polishing on metal substrates, as well, because the dense concentration of mineral lays down a finer pattern.
Available in grades of 60, 80, P100 and P120, 3M™ Hookit™ Paper Disc 763U is a premium product that is ideal for work on metal. With a resin bond that is tough and resilient, and paired with the F-weight paper backing, this disc is made to stand up to demanding applications.
Swift, Simple, Secure Attachment
Hookit sanding discs conveniently attach to a
3M™ Hookit™ Disc Pad
(sold separately), can be removed swiftly and easily, and can be re-used again and again for the extent of the abrasive life. It couldn't be simpler to attach a disc, and it stays firmly seated. This disc tends to leave finer finishes than a flatter pressure-sensitive backing, it is more flexible and it resists contamination by dust, dirt, and debris unlike pressure-sensitive adhesive backings
Recommended Applications
The 3M™ Hookit™ Paper Disc 763U is commonly used for blending and finishing stainless steel, aluminum and carbon steel.
Find More 3M Products for Metalworking
(PDF, 73.23 Mb)
Application
Metal Type
Product
Anti-Loading
Backing
Performance
Blending
Finishing
Stainless Steel
Aluminum
Carbon Steel
Titanium
Nickel Alloy
Non-Ferrous (Brass Bronze)
NX
Yes
C & D wt. Paper

Good

341D
—
X wt. Cloth

Good

236U
Yes
C wt. Paper

Better

426U
Yes
A wt. Paper

Better

363I
—
F wt. Paper

Better

202DZ
—
J wt. Cloth

Better

348D
—
X wt. Cloth

Better

735U
Yes
C wt. Paper

Best

763U
—
F wt. Paper

Best

777F
—
Y wt. Cloth

Best

900DZ
—
J wt. Cloth

Best

Scotch-Brite™ RO
—
Nylon

Best