3M™ Green Corps™ Hookit™ Abrasive Disc 751U are made with a ceramic and aluminum oxide bled that offers excellent cut rate and life. These discs are built on D and E weight paper backing and feature an open coat construction that reduces loading on fresh filler. Our 3M™ Hookit™ design allows for quick and convenient changes when discs become worn.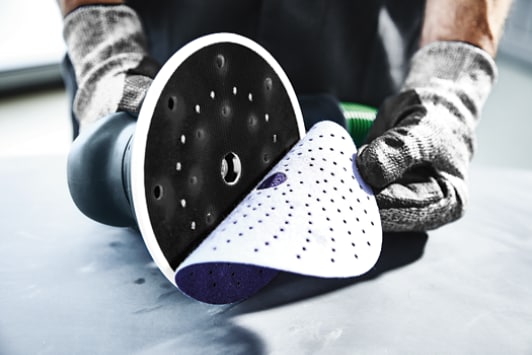 Hookit makes disc changes fast and easy
Our 3M™ Green Corps™ Hookit™ Abrasive Disc 751U is mounted on D and E weight paper backing to make them extremely durable for sanding paint on a variety of difficult surfaces. The open coat and load resistant coating help prevent loading for longer use, and produce a smooth, consistent finish. These discs are ideal for shaping plastic filler and putty, sanding clear coats, removing paint, and scratch refinement on metal, plastic, and fiberglass.
During stage 1 of the 3M™ Body Repair System use 40 grit discs to strip paint, sand down to bare metal, and sand filler and putty. Follow this step with 80 grit sandpaper to refine 40 grit scratches and allow glaze or spot putty to adhere to the body filler.
Loading occurs when material clogs the surface of the sanding disc and the abrasive points, which can quickly make the disc ineffective. Open coat construction means the abrasive grains are spaced so that dust and debris can collect in the spaces rather than loading the sheet. Additionally, the open coat feature provides a more aggressive cut than a comparable closed coat abrasive of the same grade, for faster results. The 3M™ Ceramic Abrasive Grain is a ceramic mineral designed using a 3M process to enhance toughness and hardness of the grain. For increased performance, 3M™ Hookit™ Clean Sanding Disc 751U products feature aluminum oxide blended with 3M™ Ceramic Abrasive Grain for one of the most durable, longest-lasting abrasives available. Perfect for moderate to heavy stock removal as well as sanding and finishing applications, ceramic abrasives are engineered to cut fast and handle intense heat and stress. Ceramic aluminum oxide blend surpasses aluminum oxide abrasives in cut-rate and durability, making this product an excellent choice for sanding metal, plastic, and fiberglass substrates, and finishing applications.
A complete line of hook-and-loop style 3M™ Hookit™ discs is offered for work spaces where adhesive backed discs may become contaminated by dust, dirt, or flying debris. They are often used in applications where a 3M™ Stikit™ disc may be too aggressive, as Hookit discs tend to leave finer finishes than adhesive backed discs. Hookit™ sanding discs conveniently and firmly attach to a hook-and-loop backup disc pad (sold separately) on a random orbital sander, can be removed cleanly and easily, and be used again and again for the extent of the abrasive life.