Supports 5" diameter x 7/8" center hole 3M™ Fibre Discs
Hard rubber construction works with fiber disc backing for consistent support
Reduces vibration for greater operator comfort
Designed to resist chunking for longer abrasive life
Compatible with a range of 3M face plates for fine to coarse sanding and grinding
Our 3M™ Fibre Disc Backup Pad is built tough to support our 5" DA. fiber discs on right angle sanders. Compatible with a range of 3M face plates, this hard rubber disc pad maximizes your abrasive discs – it is designed to reduce the vibration and chunking that degrades their effectiveness. The pad fastens securely to grinding tools with a disc retainer nut (sold separately).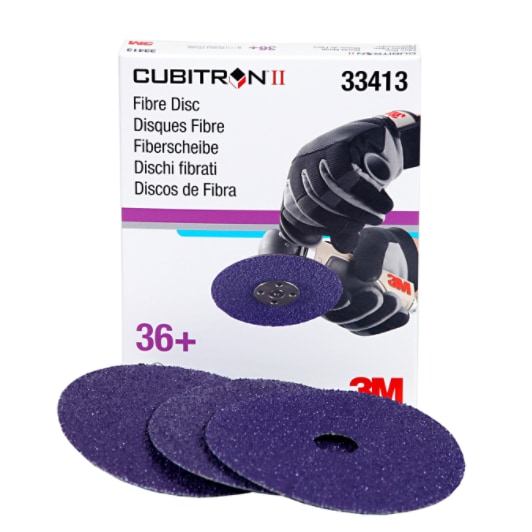 Recommended for 3M Cubitron Fibre Discs 33413 and 33415 (sold separately)
A Disc Pad that Helps You Get the Most from Abrasive Discs
Made from durable hard rubber, our 3M™ Fibre Disc Backup Pad is certainly tough — but it's also much more. This 5" backup pad is built to provide firm, consistent support for our 3M™ Fibre Discs (PN 01913—01916) on right angle and other sanding and grinding tools. The backup pad works with the vulcanized fiber backing on the abrasive disc to help it conform to surface contours for a smooth, consistent finish during grinding and sanding. It is also compatible with a range of face plates so you can choose the ideal density for specific jobs. This reduces vibration for operator comfort and also resists chunking — it helps ensure that the ceramic mineral abrasive on the Fibre Disc will continually self-fracture as designed for extended cut life, instead of breaking off in unused chunks.
The 7/8" dia. center hole mount 3M™ Fibre Disc Backup Pad attaches firmly to grinding and sanding tools using a disc retainer nut (sold separately).
The Science Behind Better Sanding and Grinding from 3M
3M designs our abrasive discs and backup pads with smart science — and it shows in operator comfort, convenience and the finished results of right angle grinding and sanding. Our 3M™ Fibre Disc Backup Pad is just another example of how 3M applies science to the lives of collision repair professionals to help you get the most from each auto body finishing application, and from your entire auto body operation.